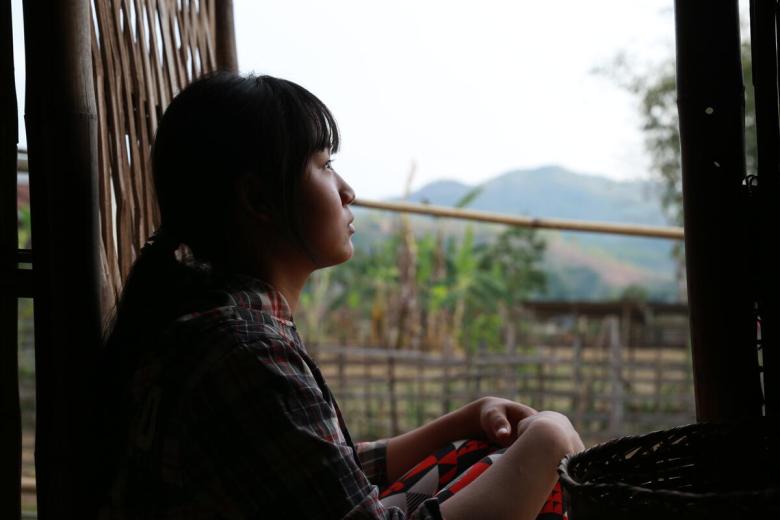 Leading with monsters and dragons
By Grenville Hopkinson
When I took on a new role as National Director for Myanmar at the beginning of this year, I knew getting to Myanmar during the COVID-19 pandemic was never going to be easy, but I did not expect monsters and dragons.
A week before I was due to relocate from the UK, a new COVID-19 variant was identified and new travel restrictions prohibited travellers from the UK entering Myanmar unless they quarantined in another 'COVID-safe' country for 14 days.
One day before I completed my quarantine in Thailand, the Myanmar military took control of the country, declaring a state of emergency and detaining elected parliamentarians in a coup d'etat. Within days, there were widespread demonstrations across the country and within weeks, violence erupted as police and armed forces cracked down on unarmed civilians. Protestors were detained and hundreds killed.
Fast-forward to today and the situation is dire. Children and their families in Myanmar live in fear of intimidation by the armed forces, with 810 confirmed deaths and 3500 people in detention. The international community is 'gravely concerned' but has limited power to act beyond targeted sanctions. A civil disobedience movement has emerged and brought Myanmar to a standstill. The health, education and banking systems have collapsed. The national COVID-19 strategy and response has stalled. Clashes between the military and ethnic armed groups have restarted. Pro-democracy groups have taken to use improvised explosives, targeting state infrastructure, including schools. Data on the humanitarian impact of the current crisis is hard to come by; the latest reports suggest that 40,000 people have been displaced, 3.4 million will go hungry and 25 million people will be pushed into poverty by 2022.
How does one lead – remotely – in the midst of all this?
Stan Mooneyham, World Vision president from 1969-1982, once shared that the earliest map-makers used to represent all the areas outside the scope of their knowledge with symbols of monsters and dragons. Meaning, "travellers beware"; there is risk and danger when venturing into the unknown. He believed that World Vision is called to "march off the map", to serve children in exactly those places where monsters and dragons are. Indeed, when we do, we often see God at work most vividly. Having served in Angola, Jordan, Singapore, as well as at the global level for this organisation, I personally know this to be true.
Our World Vision global strategy, Our Promise, the first phase of which I helped lead, calls us to continue ''marching off the map''. Our priority is to deepen our commitment to the most vulnerable, to work in the hardest places, including fragile contexts like Myanmar. For me, this means standing with my leadership team, holding them and my 670 staff in prayer for protection and security, while they spare no effort to continue operations. Here are five things which I have learned:
Find a source of strength: For World Vision, as a faith-based, international non-governmental organisation, this is prayer. Early in the crisis, we convened a global prayer vigil allowing staff to pour out their pain and hurt in prayer and worship. Weekly devotions have provided a powerful source of renewal and focus while the events in the country continue to unfold.
Go back to basics: Close communications and engagement with our staff is important, especially in times of crisis. We have convened regularly as one body, to encourage and remind each other of our corporate Vision and Mission at virtual townhall meetings and zoom discussions. Our leadership team meets three times a week to navigate complex operational dilemmas as we strive to uphold humanitarian principles in a rapidly shifting and polarised context.
One size does not fit all: Disruption and insecurity has been dynamic with flares up and hot spots emerging across the country, at different times and with different levels of intensity.  Equipping managers and team leaders to assess the local landscape and decide how best to proceed has helped us to continue delivering programmes in unprecedented circumstances.
Look for opportunities: A crisis can be a catalyst to creativity. We have partnered with Vision Fund Myanmar (our microfinance subsidiary) to make best use of their physical cash reserves for emergency programming while local banks and cash machines are not operating. We have also drawn on a diverse range of talent across World Vision globally, including our voluntary board members, to navigate these choppy waters and ensure we strengthen and improve operations in critical areas.
Prioritise personal resilience: We have equipped our leaders with tools and techniques to assess particular areas of stress, and created space for reflection to help staff manage their emotional well-being so that they can lead their teams effectively.
Every day, our staff are travelling to communities, negotiating access, navigating checkpoints, transporting goods or cash, stepping out courageously and marching off the map. Monsters and dragons are out there, yet our teams are taking risks, innovating, solving problems creatively and doing their best to serve the vulnerable. We do not understand why the current crisis is happening. It remains unclear what will become of it. However, we believe that God is with us, and He is faithful. He has plans for us, called and equipped us for such a time as this. We will, with His help, continue with Our Promise of ''Going Further'' to help children and communities across Myanmar.
Grenville Hopkinson is the National Director for World Vision Myanmar. Follow Grenville on Twitter @hopkinsons
Subscribe to see more content like this