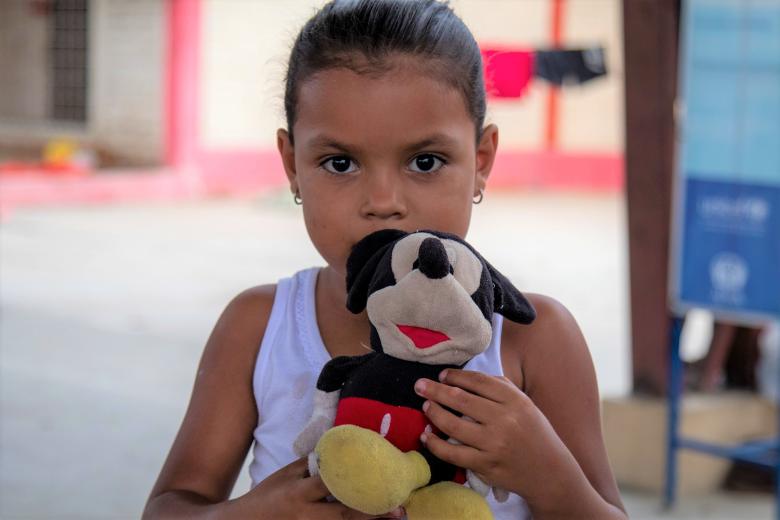 Migrants deserve our compassion and action
On International Migrants Day, Chris urges everyone to act for migrants
It's hard to believe that 36 out of every 1,000 people on Earth could be migrating at any given moment. But that was the number of people on the move in 2020, according to the International Organization on Migration.
As International Migrants Day approaches Dec. 18, more than 6 million Venezuelans have left the country, according to the United Nations. We are living in the midst of Latin America's greatest mass-migration event in recent history.
Colombia currently hosts about 1.8 million Venezuelans, followed by Peru with more than 1.2 million. Ecuador officially hosts nearly 483,000, but the number is likely much higher. Chile is hosting 448,000 Venezuelan migrants and refugees and Brazil currently counts more than 261,000. 
More than 7.5 million people in the region and about 7 million people inside Venezuela need humanitarian assistance. And the UN's $1.44 billion response is just 45% funded.  
A recent national study of households in Venezuela shows more than 76% of Venezuelans are now living in extreme poverty. The country is facing hyper-inflation, increasing economic and political isolation that has caused the closure of businesses, high unemployment, shortages of food, medicines, energy and basic goods, and rampant violence. This is why so many people are leaving the home they love.
The situation is dire and may at times seem hopeless.
In the midst of all that, I can't help but remember 5-year-old Ami, who I met last April in Huaquillas, at the Ecuador-Peru border. She and her father, Anfernee, and grandmother, Nancy, had left dire poverty in Venezuela's Falcon state and traveled 3,000 kilometers to start a new life wherever they could find economic opportunity and a place to stay. Her dad sold goods in the streets to earn whatever income he could to support the family. But it simply wasn't enough. They were skipping meals and struggling to find medical attention for Ami.
Within weeks of finding a house to rent with a few other families, they were unable to sustain the modest payments. The last I heard, Ami and her family were forced to risk their personal safety and cross into Peru through an irregular border crossing. Their opportunities ran out. It was their only choice.
Ami's story gives a face to the mind-numbing statistics and numbers we see coming from the Venezuela migration crisis. Meeting her and her humble little family cut me to the heart. You see, little Ami lives with two significant disabilities—she is deaf and mute. This means she is extra dependent on her dad and grandmother for protection and provision. And because of their precarious situation, she is especially vulnerable to exploitation, hunger, and lack of reliable access to health care for her conditions. 
Of the millions of Venezuelans who have left their homes and the millions more who struggle to survive inside Venezuela, she is among the most vulnerable.
I regularly think about and pray for Ami, her family and others like them. This sweet little girl and her family are a constant reminder of why we must continue to fight for the most vulnerable people among us, including migrants.
The statistics and figures can be difficult to process and understand. But in spite of all this, there is hope. World Vision Ecuador, along with teams in six countries in the region, is working to bring help and hope to some of the children and families most affected by the Venezuela migration crisis.
Since January 2019, our 7-country response has reached 993,638 people, including nearly 431,000 children, through multipurpose cash, child protection, education, food security and livelihoods, and WASH interventions. That includes more than 45,000 people reached inside Venezuela since early 2020 and more than 19,000 migrants here in Ecuador.
One beautiful example of how we are caring for Venezuelan migrant children in Ecuador is La Educación es el Camino program which employs the Respiramos Inclusión teaching and training methodology. In partnership with the United Nations Refugee Agency (ACNUR), the UN Educational, Scientific and Cultural Organization (UNESCO) and Education Cannot Wait, we have impacted 111,651 Ecuadorian and Venezuelan children. This program has allowed us to work with educators, students and parents throughout Ecuador to keep students learning online during the pandemic, to reduce xenophobia and to help Ecuadorians welcome their Venezuelan classmates in caring friendship during their time of greatest need.  
This work can only continue with support from everyday people like you.
If you live in Quito, Guayaquil, Cuenca, or any other major city, you might have a personal story of interactions with Venezuelan migrants. Whether it was positive or negative, or a mix of both, you likely remember at least one person. Maybe you hear their voice when you read the news. Maybe you remember the look in their eyes as you passed them on the street corner. Maybe you held your purse more tightly as you crossed the street near a group of young migrants washing windows or begging among the cars at the stoplight.
Whatever your experience has been with migrants here at home, the situation is not your fault. But it's not their fault either. Circumstances at home force millions of people around the world to make impossible choices to protect the wellbeing of their families. That's what makes them migrants—they're moving to another country to seek employment, education, health care, even basic survival.
It's Christmas time. In the spirit of what Jesus gave for us, please consider how you might show compassion for children like Ami and her family.
 
Chris Huber is Communications manager for World Vision's Venezuela Crisis Regional Response. Since January 2020, Chris has served as the communications manager for World Vision's regional response to the Venezuelan migration crisis. For eight years prior, he worked for World Vision United States, traveling the world as a photographer and writer. He lives in Quito, Ecuador with his family.
*****
Main image: Ami is a 5-year-old migrant girl who traveled almost 3,000 kilometers from her native Falcón state, in the Venezuelan Caribbean, to the city of Huaquillas, on the Ecuadorian border with Peru. She traveled with her grandmother Nancy (53) and her father Anfernee (25). Ami and her family entered into the country at the beginning of March 2021 via an informal crossing because she does not have her official documents. She keeps as a souvenir, her only toy from that section of the trip, a Mickey Mouse stuffed animal that her grandmother washed and stitched back together so that it didn't lose its shape. 
Subscribe to see more content like this