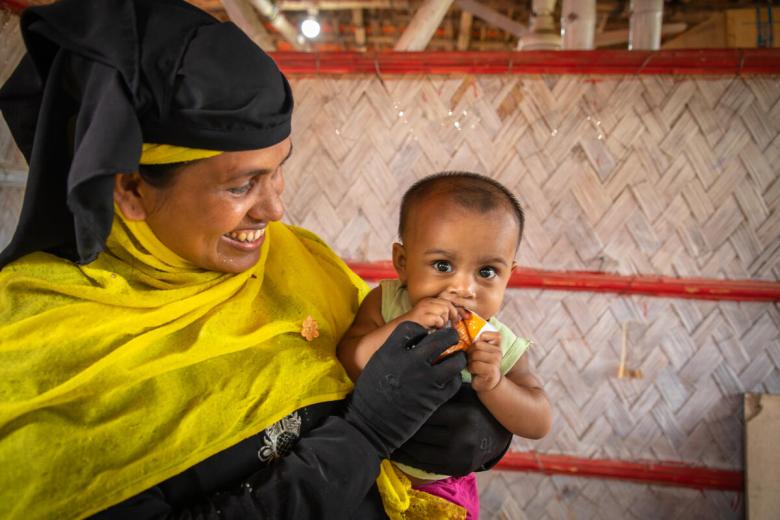 Pennies that count
In humanitarian contexts, conflict, climate change, and COVID-19 have been layered upon existing fragility with devastating impacts on children's rights and protection. World Vision's Amanda Rives and Elena Gaia look at some of these challenges and the pennies spent by donors to end violence against children.
Pennies that count
By Amanda Rives and Elena Gaia
Across developing and humanitarian contexts, children are more likely to be experiencing all kinds of violence due to COVID-19. The pandemic has left them out of school, forced to work, and getting married earlier. They are less likely to access health care, and a frightening scenario of famine in at least four countries looms on the horizon. Globally, we are likely to lose decades of achievements in child rights, even in middle-income countries. In humanitarian contexts, conflict, climate change, and COVID-19 are layered upon existing fragility in contexts likely to worsen before they get better.
COVID-19 has led to many unforeseen restrictions and challenges: traditional face-to-face programming prohibited; staff movement curtailed; school closures, leading to increasing child protection concerns.  Still, humanitarians continue to successfully mobilise and support community leaders and networks to respond to protection issues and the pandemic.
Investments in child protection bearing fruit
The investments made in ending violence against children over the past few years are now visible. In World Vision's Rohingya crisis response in Bangladesh, groundwork in community-based protection and child protection has permitted critical interventions and programming to continue even during COVID-19 lockdowns. For the past few years, we have worked with faith leaders, adolescent clubs, and mother leaders to train them on the Minimum Standards on Child Protection, risks posed to children in their community, and services and support available.
Partners, such as faith leaders (male and female), prevail in educating the population about the risk of COVID-19 and safe practices. For their communities, they have proved to be trusted voices in a context of much disinformation. Child protection and education activities continue by engaging trained adolescent club members for monitoring, mother leaders continuing psychosocial support activities, volunteer teachers supporting families at home, and faith leaders continuing to champion community-based child protection committees.
Counting the pennies of ODA
For many years, Overseas Development Assistance (ODA) has supported these programmes as lifelines for children in humanitarian and fragile contexts, and today we have reason to rejoice: new figures released in the report Counting Pennies II tell us that donor spending to end violence against children  increased 66.5% between 2015 and 2018. However, spending to protect children from violence still made up less than 1% of total development assistance (just US$1,886.5 million) in 2018.
We can see that much of the money is spent addressing the biggest needs; 68% of all donor funding for ending violence against children in 2018 went towards conflict-affected and fragile countries in the Middle East and Sub-Saharan Africa. Bangladesh, host to almost one million Rohingya refugees from Myanmar, received the most of any one country, 5.6% of the total ODA to end violence. But at the same time, humanitarian financing data tell us that the gap between appeals related to child protection needs and funds received stretched to 47% in 2019.
Indeed that's what keeps our team in Cox's Bazaar awake at night - the double trauma of statelessness plus COVID-19, the stress on children and parents, rising child marriage cases, and all the other protection concerns. Mothers are taking care of the sick and trying to keep their kids well, always the last to eat and the target of much domestic violence.
If the underfunded, stressful contexts like Cox's Bazaar receive the bulk of the funding that does come through to end violence against children, how bad must it be in other contexts? The report Counting Pennies shines a light on the donors that doubled their efforts in ending violence against children over the past years, and those that could do better. It also demonstrates that funding for ending violence is an integral part of multi-sectoral programming which is critical for child wellbeing: for instance, only by ending child marriage will education rates improve and maternal mortality decrease. Protecting children from violence is not a luxury - it saves lives.
Investing in the future
We know 2021 is shaping up to be a year with unprecedented need, including in donor countries, but before any funding decisions are met, donors should remember that violence affects more than one billion children each year, in every country and community around the world, and its long-term consequences amount to a staggering annual cost of up to US$7 trillion.
To those donors planning wild retrenchments in their aid budgets these days, we recommend: think twice, say 'no' to preventable abuse and death of children and 'yes' to those pennies. They are just a fistful for your taxpayers – the cost of foregoing two cups of coffee for the top billionaires – but more than enough to transform the lives of millions of children. Give more pennies to end violence against children, give them where they are needed the most, and make them count.
Amanda Rives is World Vision's Senior Director, Disaster Management. Follow Amanda on Twitter on @AmandaRivesA
Elena Gaia is World Vision's Director of Global Campaigns leading World Vision's It takes a world to end violence against children campaign. Follow Elena on Twitter @elegaia
Subscribe to see more content like this