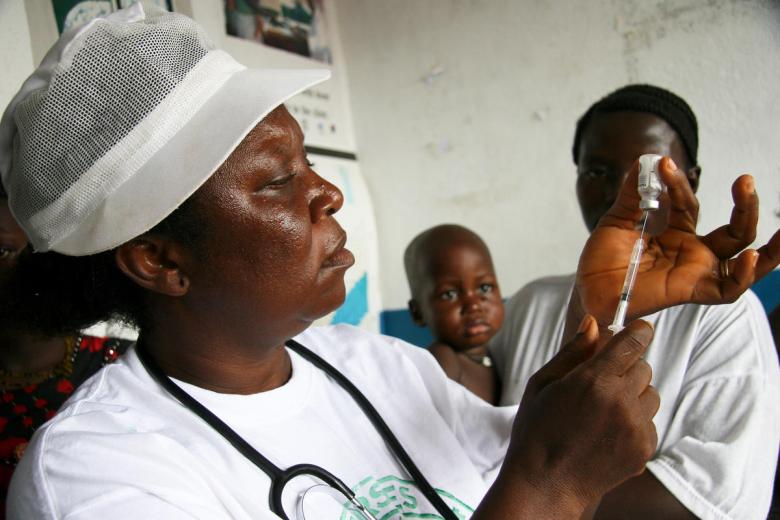 Reaching the last mile with the COVID-19 vaccine
Mark explains how working collaboratively - with the Sierra Leonean government and other partners - enabled a more effective COVID-19 vaccine response. 
Sierra Leone has been through more than its fair share of turmoil over the past three decades. Finally stabilised after the end of a 10-year civil war, the country had to cope with a deadly Ebola Virus Disease epidemic from 2014 to 2016, slowing its recovery. And then, when it looked like the country was gradually revitalising, COVID-19 struck, and with it, Sierra Leone's tentative rebound was stopped dead in its tracks.   
These back-to-back outbreaks posed a serious threat to the country's health systems as well as Sierra Leoneans' livelihoods and well-being, so the COVID-19 vaccine provided a glimmer of hope when it was first announced. However, once they became widely available, it soon became clear that many people did not want to get vaccinated. It was important for us as a team to learn why people were shying away from this life-saving jab.  
Our approach  
World Vision embarked on a journey of discovery, conducting five Barrier Analysis studies to understand the behaviours associated with vaccine uptake and hesitancy within our specific context. We hoped findings from these studies could help us design behaviour change messages that could address any concerns Sierra Leoneans had about getting vaccinated, as this approach let us assess several factors, such as:  
perceived social norms (who approves and disapproves of a behaviour) 
perceived self-efficacy (the belief that one can do the behaviour if one wants to)  
perceived divine will (whether people believe that God approves of one adopting the behaviour)  
perceived risk (such as the risk of contracting COVID-19).   
Our response  
The studies revealed that social norms and perceived divine will heavily influenced vaccine hesitancy in the communities we surveyed; however, vaccine accessibility was also an issue. We were able to use these findings to:  
advocate to fulfil emerging needs 

We successfully advocated for the decentralisation of COVID-19 vaccination sites and services to increase vaccine access to rural and slum areas in districts and chiefdoms nationwide. This also ensured that trusted local leaders were able to guide their own communities towards vaccination. 

spread messaging through reliable community voices 

We worked within our existing networks to mobilise community and faith leaders in slum areas in Freetown to share accurate information that directly responded to concerns raised about the vaccine. This helped them to demystify the vaccine and correct misconceptions, assuring some of the populations most vulnerable to COVID-19 of the vaccines' safety.  
World Vision organised radio conversations between religious leaders and Ministry of Health staff to allay the public's fears associated with the vaccine.  
We collaborated with renowned Christian and Muslim clerics to share factual messaging about the vaccine publicly and via social media to demonstrate their safety and use the Bible and Quran to address faith-related barriers. 

support existing systems and partners 

To ensure that people living in remote areas, such as Sherbro Island in southern Sierra Leone, World Vision used its boat to transport Ministry of Health and Sanitation vaccination teams and vaccines to the island to support mobilisation and increase vaccine uptake. 
In the lead up to World Immunisation Week later this month, we want to focus on the importance of immunisation and the collective action needed to promote vaccinations as a way to protect people against disease. From World Vision's perspective, vaccination campaigns are always a joint endeavour, whether they are to promote childhood immunisations or COVID-19 vaccines. While we support vaccines, and have for most of our history, because of the overwhelming evidence that they save lives and prevent the deaths of millions of children, we do not procure, distribute, or administer vaccines. However, we do work in countries around the world to raise awareness of the value of immunisation, combat misinformation, and support governments' vaccination roll-outs, including:  
ensuring that governments have the guidance and technical support needed to implement high-quality immunisation programmes 
strengthening health systems and training community and frontline health workers on vaccinations 
supporting door-to-door outreach and other participatory approaches  
equipping communities with tools to identify service gaps and effectively advocate with local and national governments to improve quality and meet service standards  
ensuring continuous engagement with community networks and leaders, local governments, and partners for a community-driven response. 
Vaccines save lives, protect livelihoods, and safeguard families and children from impoverishment and violence. Were it not for the Government of Sierra Leone's willingness to collaborate and partner with organisations like World Vision, the people living on Sherbro Island, in government wharf slums in Freetown, and in other remote and hard-to-reach areas around the country may not have had the opportunity to receive this life-saving jab.  
Learn more about how World Vision's global COVID-19 Response has collaborated and partnered with faith leaders; community and frontline health workers; home visitors; sponsorship monitors; volunteers; government officials and ministries; community-based organisations; local, national, and international NGOs; and UN agencies to protect children and their families and ensure the most vulnerable have access to and information about COVID-19 vaccines.
Mark Mutai is the Design, Monitoring and Accountability Manager at World Vision Sierra Leone. He holds a post graduate degree in Global Community Development, post graduate degree in Project Planning and Management and a degree in Environmental Health. He is a highly skilled in project planning, monitoring and evaluation. Mark is passionate about operational research in gender empowerment, health, water sanitation and hygiene. 
Subscribe to see more content like this