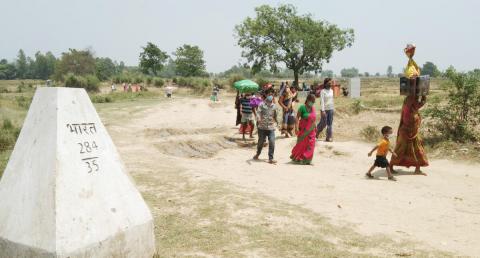 The six things India - and the world – needs to do right now
As the Delta variant causes concern for governments, and the G7 pledges one billion vaccines, Robert looks at what needs to happen now.
By Robert Kanwagi
Less than four months ago, the Indian government had declared victory over the pandemic and with much fanfare launched the world's largest vaccination campaign after the ministry of health approved the AstraZeneca vaccine and an Indian-developed vaccine by Bharat Biotech. In early April, the government announced India was 'the fastest country in the world' to give more than 100 million jabs. While the vaccination programme was a success initially, the preventative messaging on post-vaccination desired behaviours and actions seems to have been lacking. All great vaccination programmes during pandemics/epidemics emphasise primary behavioural prevention practices after someone gets vaccinated – getting the message out that what they do after vaccination is as important as what they did before. This is just one of the strategies we undertook during the Ebola outbreaks.
Estimates place India reaching herd immunity (75% coverage) in 2.8 years. And now the country is facing distribution issues due to vaccine shortages. But it's not just India at risk. India is the world's largest vaccine exporter. The government suspended COVID-19 vaccines' export in March to ensure manufacturers provide all vaccines produced towards domestic immunisation efforts. However, India's Serum Institute of India was contracted to supply doses to more than 60 lower-income countries, as well as COVAX, a global mechanism created to ensure equitable access to COVID-19 vaccines. With this export ban in place, low and middle income countries around the world are unable to access affordable vaccines.
The longer vaccines take to roll out around the world, the more opportunities there are for mutations in the coronavirus to occur and decrease the effectiveness of vaccination programmes, increase mortality, and deepen poverty. Economically speaking, it's beneficial for the global economy as well. The sooner travel and trade restrictions are lifted, the better. What can be done?
Go back to basics:

disease prevention is better than cures. The less people get infected, the less we have to deal with the fallout, such as congested treatment centres, which frees up more health workers to administer vaccines. The less people get infected, the more resources we save. Those savings can then be invested in vaccine roll-outs. The less people get infected, the more on top of this pandemic we can get. It is going to take both primary prevention techniques and vaccination to eradicate this coronavirus.

Take personal responsibility.

Disease prevention primarily happens at the individual level. A key lesson learnt from the Ebola pandemic response in west Africa and the Democratic Republic of Congo was that overcoming outbreaks is not only governments' responsibility; it is dependent on communities' and individuals' responses. It is evident that in the COVID-19 pandemic, there has been a disconnect between governments and local communities. When we undermine these critical connections, we weaken prevention and vaccination processes. Administrations must find creative ways of co-creating measures alongside their citizens. This will lead to sustainable government-community relationships to facilitate trusted engagements on primary prevention and build confidence in vaccination programmes.

Stay vigilant.

The assumption for many has been that with vaccine arrivals, we can loosen prevention measures and 'go back to normal'. But letting down our guards is at least partially why we have seen spikes in infections around the world. We need to learn from our approach to the HIV and AIDs pandemic in the 1990s and early 2000s. Even when antiretroviral therapies became available (treatment and prophylaxis for HIV), messaging on how to prevent the spread of HIV still took centre stage. COVID-19 cannot be overcome solely through vaccinations. It will only be defeated with a mix of primary prevention techniques, access to treatment services, alongside vaccination programmes.

Share vaccines.

It's a use-them-or-lose-them situation. If they cannot be used quickly enough by the purchasing country, rather than being wasted, they should be shared with countries who wouldn't otherwise have access. Globally there are as many as 1.2 billion excess doses purchased by wealthy countries that could be shared with low and middle income countries in a responsible and timely way through COVAX or other efficient established mechanisms. We welcome the United States' recent announcement stating they will share as many as 60 million vaccines to help other countries as well as sending raw materials to India so they can scale-up vaccine production efforts. The US is currently only sharing its AstraZeneca doses, but there are potentially as many as 453.5 million excess doses available to share. Other countries must follow suit.
Partner with governments on vaccine deployment, particularly in low and middle income countries, to ensure readiness and ability to deploy available doses within their shelf life. Initial findings from a World Bank assessment of national deployment and vaccination plans show that the world's poorest countries are at varying degrees of readiness for the massive undertaking. While 85% of countries have developed national vaccination plans and 68% have vaccine safety systems, only 30% have developed processes to train the large number of vaccinators who will be needed for the campaign and only 27% have created social mobilisation and public engagement strategies to encourage people to get vaccinated. Given the worrying levels of vaccine hesitancy, strategies to generate confidence, acceptance, and demand for the vaccine are urgently needed.

Engage civil society organisations (CSOs) in vaccine roll-outs. When trust in governments is low, it is extremely difficult to sustain required behavioural practices and confidence in the vaccines. A lesson learnt from the Ebola response was that trust is better built by frontline partners that can relate to and work with these communities on a daily basis.
Remember, no one is safe until we all are safe.
Robert Kanwagi is World Vision's Director of Vaccine Deployment & External Engagements, and sits on a COVAX working group.