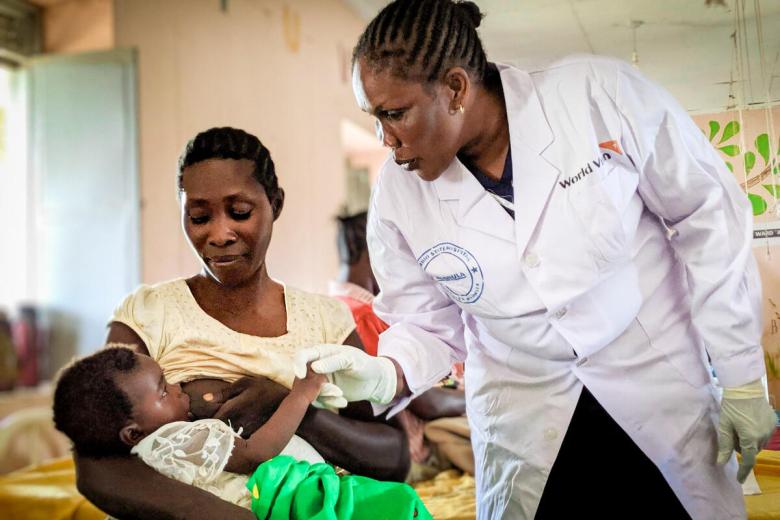 Time to invest in supporting those who support breastfeeding
By Esther Indriani
Long before the COVID-19 pandemic, we told mothers that breastfeeding would save their lives and their babies' lives. Now, the message has become even more relevant: Breastfeeding is important all the time, especially now, because breastfeeding provides complete nutrition for the baby and protects against infections. Yet, globally, breastfeeding rates are still low. Less than half of newborns are put to the breast within the first hour of life, and only 44 per cent of infants under six months of age are exclusively breastfed. Lack of support for mothers as they start breastfeeding could be one of the key reasons for these low numbers.
I live in Indonesia, and in 2021, it's easier to order food online than getting help from a lactation counsellor.  Most mothers, even in urban areas, have no idea where to access lactation counsellors. If they search for "lactation counsellor in my city," what might show up are blogs or websites of lactation counsellors in hospitals, but they will also see numerous infant formula advertisements. The fees for lactation consultants in urban areas range from US$2 to US$20.00 per visit, which is a barrier for many mothers. If they are very lucky, they can access lactation counsellor services in public healthcare facilities. 
According to the Global Breastfeeding Collective,  of 195 countries worldwide, 17 offer individual infant and young child feeding (IYCF) counselling at less than 25 per cent of their primary healthcare facilities while 53 countries offer IYCF counselling at 75% or more of their primary healthcare facilities, including Indonesia. Of course, these national statistics can mask the disparity in access to counselling services in rural and remote areas.
In addition, it's not easy to become a lactation counsellor. It requires a huge investment of time, energy, and money for continuous education, exams, clinical practice, and certification. In Indonesia, the cost to join WHO's 40-hour Breastfeeding Counselling course is at least US$360.00 for the training, plus accommodation costs. That is equivalent to one month's minimum regional salary in Jakarta. If a midwife aspires to be an International Board Certified Lactation Consultant she must undergo at least 90 hours of lactation education, 5 hours of communication skills training, join a health sciences course, and complete between 300 and 1000 hours of supervised clinical practice with a certified mentor. The fees to join international lactation training programmes vary from US$790 to US$1,500, and if it comes with certification (usually valid for five years or less) you need to pay for re-certification fees. It is understandable why many lactation counsellors charge for their services.
With those requirements and costs, most lactation counsellors in low- and middle-income countries will need a scholarship, either from government or donor funding. If we want to reduce inequities, we need to get more scholarships for health workers and community health workers to be able to participate in lactation counselling training.
In areas where most mothers are from low-income families, we must provide lactation support as a free public service, so that more mothers will be able to access this support. In many government hospitals or birthing clinics, midwives also serve as lactation counsellors since they work closely with pregnant and postpartum mothers and newborns. Their role is critical as they counsel women during pregnancy visits,  are present during labour and birth, and help with initiation of breastfeeding.
The World Bank estimates that for every US$1 invested in enabling a mother to breastfeed, it generates US$35 in economic returns. If the world invested US$5.7 billion by 2025 to reach the World Health Assembly target on exclusive breastfeeding, the lives of 520,000 children could be saved.
To do that, we must work as a global community to help mothers and lactation counsellors. World Vision and global nutrition partners call on Ministries of Health to commit to the 2020 Nutrition for Growth process. There are nine SMART breastfeeding pledges to help countries put their commitment, and those include recommendations to help mothers with lactation counselling through these actions:
provide breastfeeding counselling training for healthcare providers to support enabling environment;

incorporate breastfeeding counselling within health systems protocols, policies, norms, and practices;

include breastfeeding counselling and competencies in community health worker training;

establish breastfeeding support groups; and

integrate breastfeeding support within existing community structures for sustainability.
Breastfeeding is not just a one-woman job. It requires encouragement and support from skilled counsellors, family members, health care providers, community health workers, employers, policymakers, and others. Let's support those who support women to breastfeed!
To learn more about World Vision's Maternal, Newborn and Child Health programming click here 
Esther Indriani is Senior Technical Advisor for Health and Nutrition for World Vision's Technical Services Organisation. 
Subscribe to see more content like this