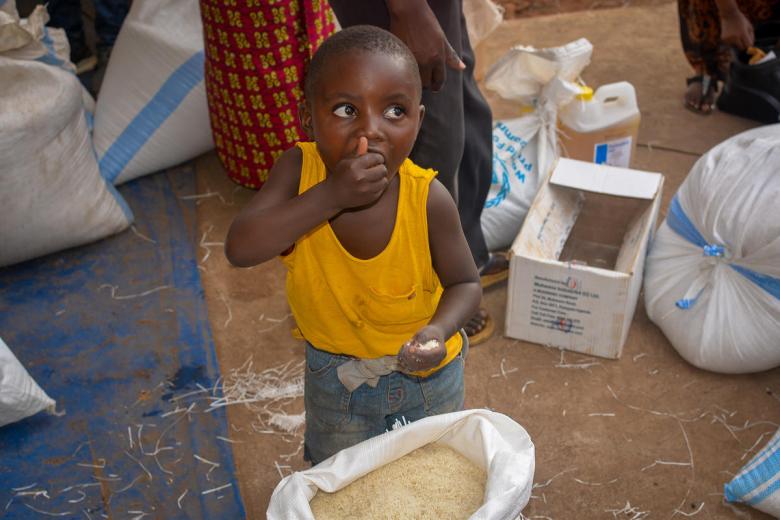 The world's silence is killing and stunting millions 
As a younger man I spent 13 years in Congo and Zambia teaching rural farmers how to raise Tilapia in ponds.  One of the greatest joys of that work were the harvests, of course.  Often when the main haul was concluding small children would rush the muddy pond in a frenzy to catch the remaining small fish, which madly and hopelessly thrashed about, stuffing as many as they could in their pockets.  A real free-for-all, and an exuberant celebration of nutritious food! 
Many years on I'm faced with the grim reality that, despite so many wonderful nutrition initiatives over the decades like my fish farming, some malnutrition trends are again worsening.  When I used to teach at George Mason University I always made a point of encouraging the students to appreciate real global development gains--like the amazing decrease in under-five child mortality.
Where nutrition is concerned, we might celebrate recent decreases in child stunting, but the world remains woefully off course to meet the humble target of no more than 100 million children stunted by 2025.  Within the global 2025 nutrition targets Exclusive Breastfeeding is one of only two considered to have made "some progress", achieving a paltry 42% of all infants breastfed.  The other, Low Birthweight, decreased from 15% to 14.6%.  It is very hard to paint an encouraging picture about global nutrition progress. 
Human nutrition is under attack. Most recently the effects of the COVID-19 pandemic are escalating global hunger, and young child severe malnutrition (wasting) is projected to increase by 15%.  Prior to the pandemic only 25% of wasted children were being reached with life-saving therapy. The World Food Programme is highlighting 20 countries with severe food insecurity, four of which have projected famines looming. Conflicts continue to drive this insecurity, of course, as do natural disasters. Increasingly, we will see the challenges of nutrition and hunger associated with global warming. 
What haunts me in particular about malnutrition is the way the world is largely quiet about it.  The magnitude of both malnutrition and its impact is staggering. Unfortunately, the food and nutrition communities, for all of their best efforts, fail to articulate the full scope of the problem.  We hear all the issue-specific numbers: hundreds of millions hungry, 25% of all children stunted, a third of all women and girls anemic, millions obese – but we don't put it all together to realise that literally billions of human beings are malnourished in significant ways.  
The World Bank notes that the economic cost of undernutrition runs up to 11% of GDP in Africa and Asia every year – this is the cost of people not physically developing optimally due to their malnutrition.  Perhaps it's too much for a mind to assimilate.  Most people really can't interpret the significance of all the statistics, and so few make a fuss and what ought to be front page news doesn't even register.  Perhaps it's also too much for governments to accept accountability for… 
The Nobel Peace Prize winning economist Amartya Sen famously stated that "No democracy with a free press has ever experienced a major famine."  There's a lot to unpack in Sen's statement, and his work, but I'll use it to suggest in summary that malnutrition is not a natural human condition.  Rather, it is a human affliction, and an abomination. There is simply a paucity of political will to eliminate this disease.   
Here's an example of what that means on the ground: in many of the poorest, highest need contexts, the availability of professional nutrition workforce is about one third of the recommended minimum.  It's very difficult to assess malnutrition need, to design effective interventions, and to advise prioritised planning and budgeting when there are no competent people on the ground to do it.
As another example, two years ago I was evaluating one of our programmes in an Asian country where, despite a moderate national prevalence of young child wasting, the government had no treatment policy in place, and subsequently clinics were not treating these children.  And one more:  the WHO reports that only 10% of births occur in hospitals which are certified as "baby friendly", meaning that they are in alignment with exclusive breastfeeding promotion practices.
What will it take to get Ministries of Health to increase their nutrition workforce, make their nutrition policies comprehensive and effective, and mandate positive breastfeeding practices in their hospitals? These are just examples amongst hundreds of game changing investments to be made, but I emphasise them to illustrate that many governments are just not taking ownership of our malnutrition problem. 
I celebrate World Vision's new commitments to the Nutrition for Growth (N4G) process – starting with $500 million in private funds for nutrition-direct and nutrition sensitive-programmes. This week we are amongst the first commitment makers into the 2021-2025 commitment making process – a year-long process leading to the N4G Summit next December.  I can only hope that amidst the year's fanfare, the report launches, and the new statistics, that world leaders will be able to connect the dots and realise that malnutrition is our historical and seemingly infinite pandemic – the story of ongoing preventable and needless deprivation.   
If we need one outcome from the N4G process it is a resolute political will to reject malnutrition. 
To learn more about World Vision's work on improving nutrition click here.
Dan Irvine is World Vision's Senior Director, Health and Nutrition. 
Subscribe to see more content like this