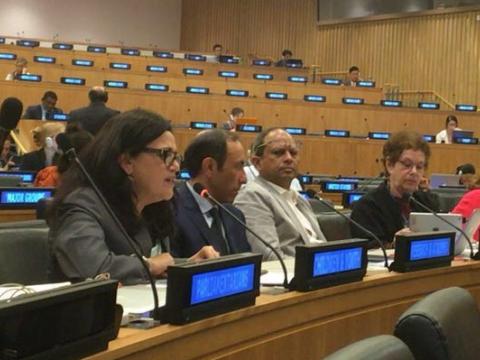 Call for Quality Education, End to Child Labour in the New Urban Agenda
Thursday, June 9, 2016
This year's 'World Day Against Child Labour', marked on June 12th, calls the world to focus its attention on child labour and supply chains. Each year, this World Day aims to bring together governments, employers and workers organisations, civil society, as well as millions of people from around the world to highlight the issue of child labourers and the actions and efforts needed to eliminate it. 
With 168 million children still in child labour, all supply chains, from agriculture to manufacturing, services to construction, run the risk that child labour may be present. Child domestic labour is predominately an urban phenomenon. Many children are forced to work in order to survive. 
They are often engaged in labour experience in its worst forms – including forced and bonded work, illicit activities, armed combat and domestic labour. They can be particularly vulnerable to exploitation. Around the world, an estimated 215 million boys and girls aged 5-17 years were engaged in child labour in 2008, 115 million of them in hazardous work.
This week in New York, the General Assembly of Partners, a key umbrella group in the Habitat III process, gathered together during the informal hearings for major stakeholders to respond to the Zero Draft of The New Urban Agenda. 
As Co-Chair of the General Assembly of Partners' Children and Youth Constituent Group, World Vision highlighted the New Urban Agenda's failure to adequately address the issue of child labour amongst other heightened child vulnerabilities in urban contexts.
"Children from poor families are often forced into hazardous work. The New Urban Agenda does not adequately address the issue of child labour in the informal economy. The link between access to quality education and opportunities for decent livelihoods must be considered and strategies should be in place to ensure the urban poor and youth transition from the informal economy" stated Joyati Das, Senior Director of World Vision International's Global Urban Programmes.
"We call for safer environments for children to be protected from abuse and exploitation. The right to child friendly spaces, accessible and walkable spaces. Wasted space is wasted asset of the city. Clean, green, liveable space is critical for health and well-being of children and youth. Municipalities must consider at least 40% of public space is designated to public parks, safe community space, schools, and area for basic services for the poor."
World Vision expressed concerns that children and youth are still identified throughout the Agenda as mere beneficiaries. They have a right to the city and have skills to offer. They should be identified as a key resource and agent of change to drive social, political, technological, and economic transformation in the city. 
To implement and monitor the success of the New Urban Agenda, The General Assembly of Partners' Children and Youth Constituent Group proposes a global alliance of child focused agencies as a knowledge network to promote the Urban SDG#11, especially focusing on the most vulnerable and marginalised.