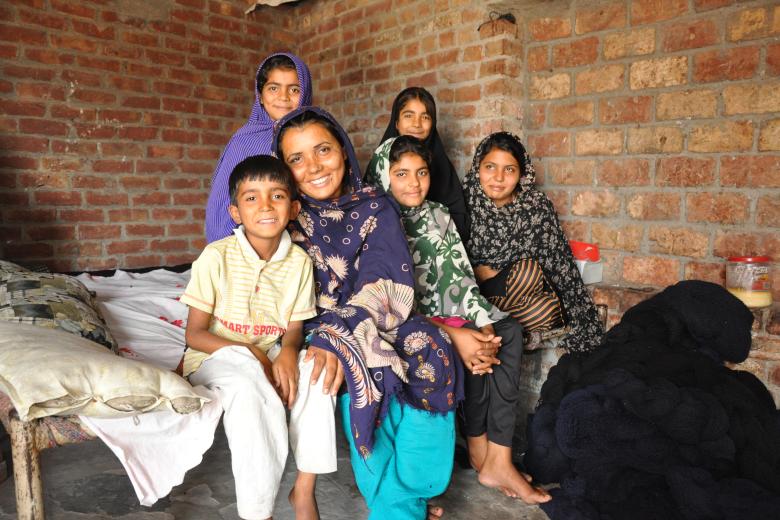 Being visible for the first time
Monday, July 2, 2012
Living in a small, un-plastered, brick-walled one room house with five children (Mehvish 16, Mishal 14, Sehrish 11, Humaira 10 and Jamshed 7), Fareeda 36, is typical among the hundreds of families who do not register their children at birth. Living in Bhatt Haji Sohn Din, district Kasur, 50 Kilometres south east of Lahore, the capital of Punjab province in Pakistan, poor and uneducated women must struggle daily for basic rights, recognition and respect.
"I could not send my children to school because of poverty and not having birth certificates, mandatory for admission to schools."
Birth registration is important because it establishes the existence of a child under law and is the first step in ensuring many of the child's civil, political, economic, social and cultural rights. Article 7 of the United Nations Convention on the Rights of the Child specifies that every child has the right to be registered at birth without any discrimination.
The reasons for low birth registration can be attributed to lack of awareness of the importance of registration, geographical distances and complicated procedures of getting registered, says Hamayun Aslam, World Vision's Social Mobiliser.
World Vision initiated Pehla Qadam (first step) advocacy project in Kasur to empower vulnerable communities to participate in the process of local governance. This was done through informal, local level advocacy committees to tackle the specific issues that arise or affect their well-being and to continue to demand government to provide basic services in health, education and economic development and to be their own advocates, for their rights, the law and the system that governs them.
Out-reached and oriented by World Vision advocacy and mobilization teams in one of the community consultation meetings (to discuss local issues and identification of key community activists), Fareeda was sensitized about the importance of education, basic human rights and about the Manzil Drop In Centre (DIC) for street children. The very next day, an inspired Fareeda visited the DIC to enroll her two daughters, Mehvish and Sehrish.
"My children have never been to school before, it is a different world for my children, I cannot believe that my children can get an education at this Centre. I was so happy to see my children playing with the toys for the very first time in their life. I am now hopeful that my dream for providing an education to my children will come true and my economic condition will improve," said an emotional Fareeda, with watery eyes.
"Now all my children have got their Birth Certificates made and because of that Sehrish has already been integrated into a mainstream government school in grade 1, whereas Mehvish, Mishaell and Humaira are learning vocational training skills (stitching and embroidery, beautician, non-formal education) in Level 3, Level 2 and Level 1 respectively, in the DIC. Because of World Vision's interventions they are now well on their way to receive an education and have a better future," she further said.
An active member of Community Support Committee Qayadat (leadership) and General Secretary Mothers Club, Fareeda, now commonly known as Fareeda Baji (an elderly sister), has become a respected focal person within her community, as she always contacts World Vision mobilization and advocacy teams for anybody wishing to enroll their children at the Drop In Centre. She has herself become an outreach worker and an advocate for change, sensitizing and urging mothers to send their children to the Centre to learn life skills, informal education and health and hygiene awareness, and has enrolled more than 50 working children in the Centre.
"I am happy to be able to help others, I thank God for all this."
Fareeda and her five children unweave wool from old sweaters provided by the local loom factory owners into threads to earn RS 150/ (US $1.63) per day to make a living.
When asked wouldn't you lose your income if your children stopped working and started going to the school, Fareeda with a defiant look in her eyes said, "I have now become aware about the importance of children's education, it really does not matter even if I lose income, I will eat less but will ensure they all go to schools, especially my son Jamshed, I want him to get an education and become a police officer in future."
"After joining the Centre I am now able to help my mother calculate our work wages exactly and get paid fairly without being fleeced by the loom owners," said Mehwish.
World Vision seeks to empower and support communities to achieve sustained well-being of children and fulfillment of their rights within families and communities in Pakistan by working together with local governments, civil society and non-governmental organisations to address the barriers to birth registration and Computerised National Identity Cards (CNIC). In collaboration with the National Database and Registration Authority (NADRA) and the registration authority at Union Council level, World Vision aims to help families obtain CNICs and birth certificates for their children and communities in five Union councils of Kasur district.
End.