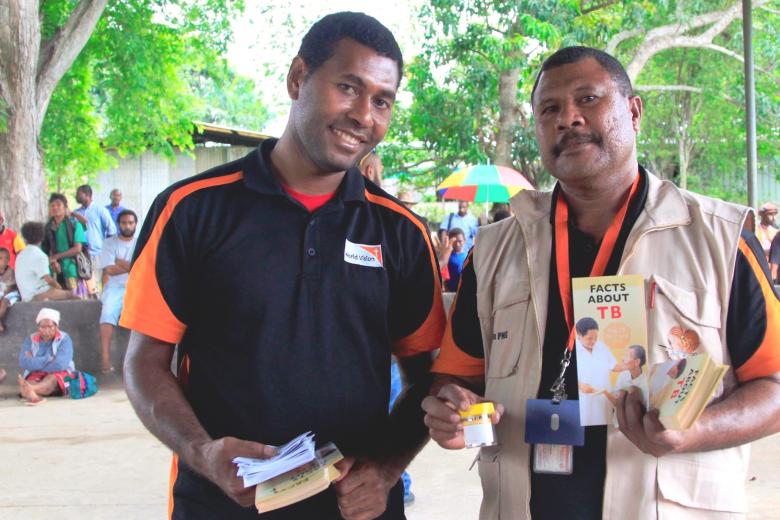 Aiming to not get TB again
Friday, March 20, 2015
When Magdelin was just 18, skeleton-thin and facing death, she was adamant she would not be infected with TB again. Now, having successfully completed her treatment, she strives to live a healthy life with her family in Daru, Western Province, a province with high rates of TB.
For Magdelin, having tuberculosis meant missing school and feeling ashamed to tell her friends about her illness. It was a long, trying journey for her. She credits her grandfather for her health, for his continuous support and no-nonsense attitude towards her treatment, along with the support of the TB partnership program.
According to Magdelin's grandfather Udu, Magdelin was admitted to the ward and occasionally did not want to take her medicine.
"She couldn't walk, was sick in bed and I told her, 'If you don't take your medicine, you are going to die.' I was with her all the time in the hospital until she got well enough for us to go home," said Udu.
Magdelin is healthy again!
In 2013, the largest number of new TB cases occurred in the South-East Asia and Western Pacific Regions, accounting for 56% of new cases globally. (WHO)
Each year, about 25,000 people in Papua New Guinea get sick with TB (WHO) and almost half do not get the proper care they need. If a TB infected patient does not maintain their treatment regime and complete the typical 6-9 months of medication, the disease can become stronger and resistant to drug treatment.
The National Department of Health is concerned about this growing TB crisis and its impact on the people of Papua New Guinea. It is working tirelessly with partners to create awareness and ensured those infected with TB are seeking treatment and are cured.
Each year, about 25,000 people in Papua New Guinea get sick with TB.
Monitoring patients will require innovative approaches; including supporters to help patients complete their full treatment. Mobile text messaging with TB messages by the National Department of Health through the TB Emergency Response are timely, but there are also unique cultural and local issues that also need to be addressed for an effective Directly Observed Treatment (DOTS) strategy in PNG.
DOTS remains at the centre the Stop TB Strategy, and includes the following five elements:
Political commitment with increased and sustained financing
Case detection through quality-assured bacteriology
Standardized treatment, with supervision and patient support
An effective drug supply and management system
Monitoring and evaluation system, and impact measurement
(WHO)
Since 2007, many of the nation's population has been reached with the life-saving education about TB, while access to free detection and treatment services has been made widely available to Papua New Guineans.
World Vision PNG Country Director Curt von Boguslawski said, "While PNG is reaching milestones in the reduction of TB with increased Government commitment and dedication by partners across all 22 provinces, more work still needs to be done. Such positive results of the DOTS program are a testament to a strong partnership between government, NGOs and corporate partners with a unified vision and mission: to eradicate TB in PNG."
TB patient Raho Naime did not complete his first round of treatment, and is now on stronger medication.
"I took drugs at first but because of problems like joint pains I left treatment. But now I am taking the injection and the drugs at the same time. I am feeling well and I'll be going back to my studies and training as a weightlifter. I would like to say thanks to my treatment supporter for being a good volunteer," said Raho, 21.
Raho with his grandmother, Sisia.
Community awareness and participation is crucial in fighting TB. Raho's grandmother Sisia is a TB Treatment Supporter. A TB Treatment Supporters ensure TB patients take medicine regularly and complete treatment, essential for a successful cure.
Anyone can get TB, but people with weakened immune systems are at greatest risk. Around 26 percent of TB patients are children. Crowded and impoverished communities make great 'homes' to TB and lack of or inadequate hygiene helps spread the disease.
World Vision's Provincial TB Coordinator in Morobe, Helem Waenesai said one of the challenges is diagnosing TB in children, as they are unable to produce the sputum needed to test for the TB bacteria. Another challenge is locating TB positive persons to start them on treatment if their addresses and contact details are incorrect.
"Sometimes, the work is challenging, but interesting at the same time. It's been six years for me into this job. I'm good at what I do and I feel joy when TB patients are cured. They motivate me when I see them out and about. That's what keeps me going and makes my fight against TB worthwhile and worth doing," said Ms. Waenesai.
Everybody including patients like Magdelin and Raho, TB workers like Helem, treatment volunteers like Sisia, NGOs, corporates, government and the public with the right information has a role to play in spreading awareness of the disease, and stressing it on the political and community agenda using all venues and means to ensure TB is eradicated in PNG.