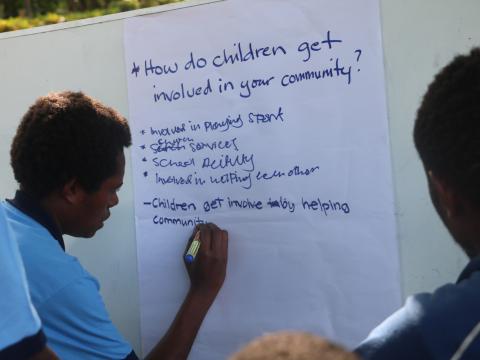 Children introduced to disaster risk reduction
Thursday, October 11, 2018
With its location on the Pacific ring of fire, Papua New Guinea (PNG) is highly susceptible to disasters that put lives at risk. Madang Province, specifically, faces multiple hazards including flooding, landslides, tsunamis and volcanic eruptions.

World Vision in PNG, through the support of the Australian Humanitarian Partnership, pilot tested its child-focused disaster risk reduction training module with twenty-five students from two primary schools in Madang Province. World Vision Lead Facilitator, Bonnie Belonie, explained that the module is designed to be child friendly and participatory, with fun and games built into the sessions. The training has five main areas:
 

 

Child rights and child wellbeing

 

 

Understanding children's participation in their environment

   

Basic concept of hazards, disasters, capacity, vulnerability and disaster risk

 

Understanding community risks and child-friendly community risk assessments

 

 

Leading focus groups with adults in the community and disaster risk reduction measures
"This training is focused on empowering and making students develop their knowledge and skills on basic aspects of disaster risk reduction and preparedness," said Mr Belonie.
One of the students, Lebu, aged 14, commented, "I can see and understand the difference between hazards and disasters and I can identify and better prepare myself and those around me."
Jeguar, aged 15, and Lebu, live next to the mouth of the Yowor River, which is one of the two river systems that swell during the rainy season, causing flooding that destroys food gardens.  The flooded river also divides the highway, preventing people's access to town, government services and other communities.
The school head boy, Jegar said, "As a young leader I know that it is my right to come to school and be part of new things like learning about disasters and risks."
Although the twenty-five participating students come from communities that are relatively close to each other, the geography of the communities differs. Some live in mountainous communities inland while others live near major rivers and the coast. The students shared experiences and knowledge on how they identify hazards, their vulnerability as children and how they, with their newfound skills and knowledge, can contribute to reducing disaster risk.
Alex, aged 15, lives in a lowland area near the Munzeng River and has difficulty reaching school when the river is flooded. The training is giving Alex and her friend Jeslyn, aged 15, new insights into dealing with the hazards they find in their community.
"I am very excited because I am learning new things from World Vision about disasters and hazards," Alex expressed.
"I did not know about the different hazards around me and how to prepare for them but after this training I am aware," said Alex. Jeslyn also felt pleased because she learnt new ideas from World Vision about hazards and the negative effects of disasters and how to prepare for when they happen in her community or school.     
One of the head teachers, Fred Nasuka, said he was very happy to have this module tested in his school. He explained that the school was prone to flooding and there have been many occasions when students risked their lives to attend school by jumping into the river and swimming across to the other side.
"This training is going to make a big difference in their lives and help them reduce the risks posed by disasters," shared Mr Nasuka.                 

Michael Ngond, World Vision's Humanitarian and Emergency Affairs Manager said, "This pilot test was the first to be done in the country. It is timely as PNG has recently experienced a number of natural disasters.  It's important we reduce the risk to children as they are especially vulnerable during disasters."