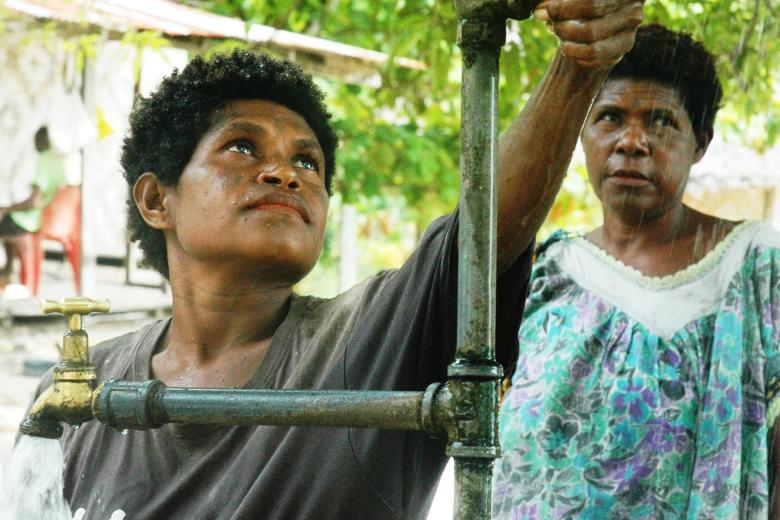 Community takes control of their water supply
Tuesday, January 29, 2013
Mother of five Delma knows the importance of clean water.
"When we didn't have water taps installed in the village, we had many problems. We walked for hours with our children to do washing and to carry water back home. Our children went with us and they helped carry water. Many times, our children were late for school," says Delma.
Unfortunately, only 40 percent of people in (Papua New Guinea) PNG have access to improved drinking water and 45 percent have access to improved sanitation facilities.[i]
Many communities have unprotected and poor water supply facilities that are easily contaminated by animals, humans and salt water intrusion. They also do not have adequate sanitation facilities like toilets and do not have good hygiene practises.
Poor water and sanitation creates more work for communities and increases the risk of water-borne infectious diseases such as diarrhoea and scabies. According to the World Health Organisation, safer water could prevent 1.4 million child deaths from diarrhoea annually.[ii]
World Vision started working with Delma's community because, like many communities in PNG, they did not have access to clean water. Since the project started, the community has seen the benefits of a safe and accessible water supply. They have become very involved in the project and have set up their own water management committee (WMC). They also contribute 10 per cent of the overall project costs.
Delma is the chairwoman of the water committee and explains that each family contributes PGK 24 ($USD 11.50) annually to the WMC. The committee's functions include overseeing and managing water usage, ensuring water taps and pipes are in working order and planning ways to maintain the water supply system so the community has clean water.
Delma said the project has already resulted in improved hygiene and sanitation behaviours in her community and has improved access to clean water.
"I am very happy that my children are now drinking clean water and the water tap is just outside our house," she says proudly.
Community leader Joe Sakipa says his community's dreams for the water project are bigger than just a safe water supply.  
"We want to set up two community septic toilets, one for men and the other for women. We also want to build one for our local school here. We plan to hire a local carpenter to assist us in this," he said.
Water, sanitation and hygiene (WASH) projects are an important part of World Vision's work in PNG. The aim of the WASH projects is to improve the health of rural communities by improving access to safe water supplies and sanitation facilities and the promotion of good hygiene practices. World Vision acts as an advisor to the community and empowers them to take ownership of the project to ensure its sustainability.
[i]http://www.unicef.org/infobycountry/papuang_statistics.html