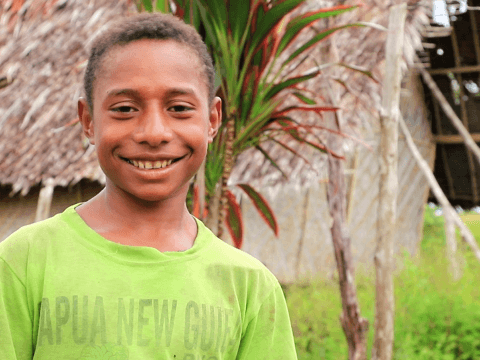 Earthquake Response: One year after, Denzely returns to school
Monday, February 18, 2019
Eleven year old Denzely will be back in school this year enjoying his favourite subject mathametics at Muluma Primary School, located in the Southern Highlands of Papua New Guinea.
"I want to be a pilot because I have good grades in maths, but I also want to be a pilot because no Muluma boy has become a pilot. Alroads to my village and the only way here is flying."
Last year, children like Denzely could not go to school because his province was one of five affected by a 7.5 magnitude earthquake.
The places Denzely and his family use to source drinking and cooking water was destroyed by landslips and became polluted by debris and dead animal carcass. The same was also for many others.
 "Our water sources were dirty and when we drank, we felt sick, some of us got sick, we couldn't bathe because the river stunk of dead animals," says Denzely.
Because Denzely could not take a bath in the river and cook food or drink clean water; he could not go to school. His school was closed and he had to stay home for the most part of last year for fear of constant small tremors that continued.
"When the aftershocks came, our desks would move and we couldn't write properly, our classroom also moved and is no longer in its original place," says Denzely.
He adds that as a result, the school was closed but will be re – opened this year because his school received a new water tank and two separate improved ventilated pit (VIP) toilets from the New Zealand Aid Programme through a grant implemented by World Vision.
Denzely says," In the past, we would go for long distances to look for water beside big rivers and then drink from there but now we have a tank at school, we are very happy about it."
Mission Aviation Fellowship (MAF) supported us to transport building materials, and the Evangelical Church of PNG (ECPNG) assisted in constructing ventilated improved pit (VIP) toilets, water catchments and the installation of tanks with the support of community members. The tanks were airlifted by the Emergency Controllers Office logistics team.
Community members help unload relief items which the Mission Aviation Fellowship has helped transport for us. (Photo: Vele Emilio/World Vision)
Our team reached 27 little communities in Mt Bosavi, Southern Highlands Province. Muluma and its surrounding villages of Gabalo, Olabia, Wanagesa and Kolo were also part of our recovery and rehabilitation phase.
"When World Vision came they gave us clothes, water containers and blankets that we could use, "says Denzely.
The early part of our response saw the distribution pre-positioned Non Food Items (NFI's), made possible by the support of the Papua New Guinea and Australia Partnership. The NFIs was a response to the urgent water, sanitation and hygiene needs of earthquake survivors. In partnership with the ECPNG and MAF, we distributed water containers (10 litre semi collapsible jerry cans), 6 months' supply of aqua tablets, fleece blankets, mosquito nets, and hygiene kits containing toothpaste, toothbrushes, bath soap, laundry soap, candles, matches, sanitary pads, wide tooth combs, and disposable razors.
Our WASH (Water, Sanitation and Hygiene) officers on the ground conducted WASH awareness' and demonstrated how to use water purification tablets.
Vele (left) and Thomas (right) demonstrate the proper use of aqua tablets to purify the water during an awareness session with community members. (Photo: Steven Doe/World Vision)
Vele Emilio, World Vision PNG's Emergency Coordinator for the Highlands Earthquake Response Project says, "A total of 989 households and 3444 individuals benefited directly from the non-food items."
By the end of 2018, we provided rehabilitation of 8 School facilities and 5 health facilities. The recovery phase saw a total of fourteen 9000L tanks and 28 VIP Latrines constructed across all health and school facilities. An estimated 4000 plus men, women, and children stand to benefit from these WASH infrastructures.
Mr Emilio adds, "Total of 126000 Litre of safe, clean and free drinking water was made available to the entire community we worked in."
Roslyn Seiyaka, a survivor, beneficiary and a World Vision volunteer in her village is grateful that we supplied water containers and carried out awareness on how to use the distributed water purification tablets.
She adds, "World Vision supplied us with water bottles and showed us how to use the purification tablets. They told us that if the water was dirty we should drop the tablets in, wait for a while and then drink. They also gave us some clothes and now they have put a 9000Litre tank so our children can use when they are in school."
Roslyn now help inform mothers about proper hygiene practices to help them protect their babies from diseases. (Photo: Steven Doe/World Vision)
After undergoing several health promotion sessions, Roslyn is now assisting our team in Muluma whenever she can and regularly conducts awareness on better hygiene to women and girls in her ECPNG church group.
She says," We also received hygiene kits and were taught how to use it."
Mr Emilio said that after using the hygiene kits, women and girls now know the importance of maintaining a clean and beautiful appearance at all times.
He adds, "Women and girls, especially primary school aged teenagers make it their priority to buy their needs outside. Bathing with soap, brushing with tooth paste, sleeping under mosquito nets and drinking water from a clean container; all these has brought happiness in a family. Each family takes the ownership of purchasing the same own needs for their children."
Because of the funding support of the New Zealand Aid Programme, support from the PNG and Australia Partnership, MAF and ECPNG, we have all contributed in our own way to helping children like Denzely have access to safe and clean drinking water so they practice and live healthy hygienic lives.
Denzely stands beside the newly installed water tank inside their school compound. (Photo: Nelson Kairi/World Vision)

But most importantly, if children like Denzely are healthy, they will be vigorous in their learning and be able to complete their education and fulfil their dreams.