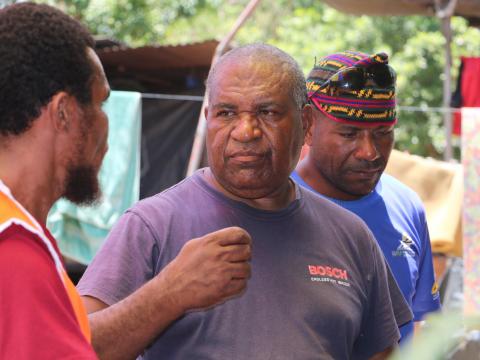 Human Rights Defenders: We do it from the heart for our community
Wednesday, November 28, 2018
"We work in our community where there are a lot of child abuse, violence and child protection issues," says Tom Oaveta, a community leader at Kerema Block, 9 Mile - Port Moresby, Papua New Guinea.
Mr Oaveta leads a team of six Human Rights Defenders (comprising of three males – he included and two females.)
Prior to becoming a Human Rights Defender (HRD) and a Community Resource Person (CRP) for World Vision in Papua New Guinea, Tom led peace mediations in his community.
"After completing the HRD and CRP training, my team and I are now using the knowledge we learnt through our training to work with members of our community to educate them and assist in solving gender related issues."
He said after conducting peace mediations between disputing couples in his community, community members are now aware that there are HRDs and CRPs to assist them within the community.
Mr Oaveta adds, "I want to thank World Vision for training us, we are now able to use the skills to help our community, and we are doing it from our hearts because we know that there are problems in our community, issues such as domestic violence must be reduced or is at a level where it can be peacefully solved."
He further said that in his first two months as a certified HRD, he and his team have witnessed and supervised more than 20 cases of family and sexual violence in the community.
"We have already sent three women to a seif house (safe house) but there are some cases that we brought to the attention of the police but did not proceed as we expected."
As such, Mr Oaveta and his team are now working closely with World Vision to understand the correct pathways involved in reporting cases of family and sexual violence so as to minimise it in their community.
"There are some cases that we deal with on a community level through our own customs as Melanesians but there are others that we have referred to the village court."
He adds," It is very challenging to be a HRD, you will be needed at any time, sometimes at night, sometimes when you're about to have dinner or to be with your own family, but we know we must do this because it is for the good of the community."
World Vision in Papua New Guinea through its Action Against Gender Violence: Engaging Men, Youth and Children project is working with other NGO partners to train community volunteers on the importance of gender equality, gender inclusion and the rights of children amongst other gender related topics.
"I'm very happy with World Vision and its partners for teaching us these skills, what you have taught us is very important and we are happy to volunteer: although we are not paid, we do it from our hearts," Mr Oaveta said.
Community leaders are taught skills on how to identify and deal with gender related issues as well as the best ways on solving family and sexual violence and child abuse issues within their own communities.
 "I volunteered as HRD to help keep my community safe so that women and children can move around freely and safely," says Paul Oza.
He adds," Men and women must move around freely in our community, I learnt about HRD through a training conducted by World Vision and National Capital District Commission (NCDC)."
Paul said that after completing the training, he is now working as a volunteer because he wants to share the knowledge and the skills he has gained with other members of his community.
"We are here to teach you, so that you become better people and live in peace unlike some other communities in the city,"
He confirmed that so far, they have facilitated more than twenty cases on domestic violence in their community since becoming HRDs, with three women already referred to a safe house.
He added that the team also do regular awareness in the community on child protection to educate parents that children do have rights.
Paul adds, "We educate parents on the types of chores children can do, we tell parents they must not tell their children to carry large jerry cans for long distances as it affects the child's growth."
These trained community leaders are given certificates at the end of each training or workshop so they can return to their communities and share the knowledge and skills they have learnt.
Paul adds, "I tell parents that your problem will eventually be my problem because I'm a HRD, so you need to listen to me and stop mistreating your children."
Both Paul, Tom and four other members of the HRD team at Kerema Block, 9 Mile have also volunteered as screen talents (actors) for an upcoming short video on reducing family and sexual violence in PNG under the Action Against Gender Violence: Engaging Men, Youth and Children project.
The video is titled "Mutual Respect", and aims to educate people on the importance of respect within a marriage. The videos are in pre – production and will soon be aired on a local Television station - TVWAN.
The video production is supported by World Vision, Consultative Implementation and Monitoring Council (CIMC) and The National Capital District Commission (NCDC) with funding support from the Australian Government working in partnership with the Government of Papua New Guinea.