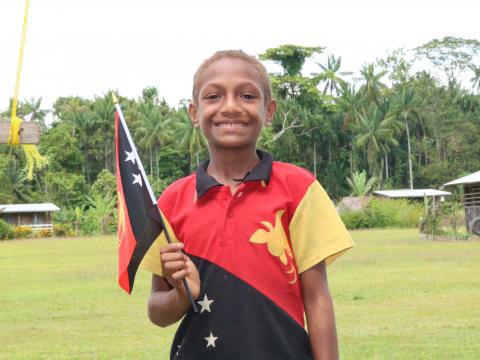 International Day of the Girl Child: Nosa Stays in School
Thursday, October 4, 2018
Nosa, 10, attends Koroba elementary school in Madang Province. She is in elementary and loves attending school. Her favourite subject is Math and she wants to be a pilot when she grows up.
"I saw a picture of a PNG lady pilot in a magazine and she looks cool that is why I want to be just like her," Nosa said.
"It's my dream because I always see planes flying over our house and I wish that I can also get on a plane and fly," she whispered shyly.
According to Nosa's teacher, Miriam, Nosa is a fast learner and can also read very well.
"Ever since I started using the new teaching method (Phonemic Awareness) I've learned from the Literacy Boost Teacher Training workshop by World Vision, I've seen improvements in my students', including Nosa's reading skills," Miriam said.
World Vision and its partners are working together with the Provincial and District Divisions of Education to improve literacy and numeracy in elementary schools in Central, Morobe and Madang Provinces through the Together for Education Project
The project is supported by the Australian and Papua New Guinea Governments; World Vision partners with Child Fund, Consultative Implementation & Monitoring Council, and Library for All, and the University of Canberra.
In Papua New Guinea it is a struggle to educate an estimated 2 million elementary and primary-aged children and the Government faces numerous challenges in providing Education for All (EFA). A report from Education Research International reveals that the dropout rate of girls is more than that of boys due to the gender inequality in the country.
Like many developing countries in the world, gender inequality is a serious problem in PNG schools. Research shows that many parents think that the best returns are through educating sons rather than daughters.
Nosa is very lucky to be in school because she has very supportive parents especially her mother who believes in educating girls.
"In the past, many parents choose to send sons rather than daughters to school so that their sons get educated and find jobs to help look after parents and siblings in future," said Ana, Nosa's mother.
She adds "But for me I believe that my daughters will look after me if they are educated and get a job."
The Together for Education project also addresses barriers to gender and disability by encouraging full and effective participation in learning for both girls and boys.
World Vision and its partners conduct sessions with parents and caregivers to help them understand the importance of putting their children through school and to help them continue their learning at home.