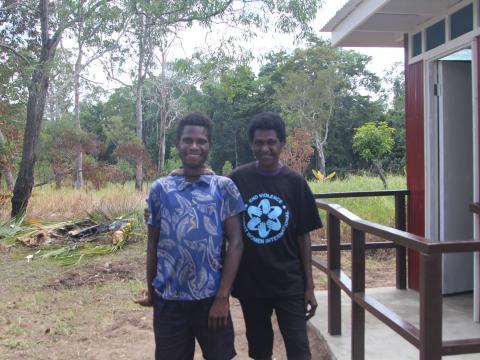 A lighter load to carry for Enoch
Sunday, December 2, 2018
Twenty-year-old Enoch Wedewa now experiences a change that directly benefits him in school and in his community.
The implementation of the Water and Sanitation Hygiene (WASH) project in Western Province by World Vision has enabled Enoch to attend school, move around freely, drink clean water and be happy in his community.
Enoch was born with physical disabilities to his left hand and feet. He has had a slow development through life. There was lack of knowledge and recourses for managing disabilities, and because of the cultural and traditional perspectives, which has influenced the lives of people with disabilities they were unable to join community life, go to school or work.
Enoch is from Kodoro village, which is about 3 hours' drive from Daru the capital for Western Province.
Western Province is the largest province in Papua New Guinea by area that has several large rivers that run through the province. Kodoro is a remote area upriver without any infrastructure like roads, airstrips or electricity.
Despite the cultural norm associated with disability, Enoch attends Kodoro Primary School and is in grade six. He likes going to school and enjoys his studies especially subjects like Mathematics, Language and Science. He is the second born of 12 children.
The National Disability Resource and Advocacy Centre gave a report under Disability in Papua New Guinea (PNG) that the country has an estimated population of 6 and a half million. More than 85 per cent of the people live in rural and isolated villages that make access to social services such as health and rehabilitation, mobility equipment, employment and education extremely difficult and limited.
Before World Vision implemented the Water and Sanitation Hygiene (WASH) project in the community, Enoch and the rest of the primary school pupil and community depended on the river for everything. Clean drinking water was a luxury that did not exist in the community because of the absence of water catchment amenities like roofing iron and water tanks.
"Before World Vision came to put water tanks, we drank from the river and it did not taste good" he expressed.
The children access the main river at recess and lunch for drinking and cooling off and go into the bushes because of no proper latrine structures. During rainy seasons the river banks are slippery and muddy and going there to drink water required so much more for Enoch. His left hand and leg have physical impairment that causes a strain on him when he wants to drink water or defecate.
The water from the river was not boiled or purified for the children to drink and this causes diarrhea and water borne sicknesses.
The World Health Organization (WHO) estimates that about 975,000 people in PNG are living with some form of disability or impairments. About 2 per cent (19,500) in this group is receiving services whereas the other 98 per cent (955,500) are not receiving any support.
The WASH project since its inception in the community has given many trainings on disaster risk reduction, hand washing and sanitation. It has a disability inclusion approach with all the water installations, cement pathways and hand rails that makes it easy for Enoch and everyone accessing these facilities. The facilities come to demonstrate that his physical disability will no longer put a strain on him and other children living with disability.
"Now I feel happy with the new water tanks," Enoch said smiling.
He understands that the environment around him has changed with this project from the resources funded by World Vision its partners.  
"The community has made many changes," he said.
 A group of Kodoro women came together and decided to build a footbridge along a swampy area to provide an easy walk across. They were able to do this with the training they received on disaster risk.
One of these changes is the better understanding of people living with disability, roles of men and women in decision making and reducing risks within the village. Through the support from World Vision enables them to express themselves and stand up for their human rights.
World Vision Project Coordinator in PNG, Sawiam Marei said Kodoro village have embraced the trainings we gave in the community and have re-designed their village set up with proper drainage, flowerbeds and removal of trees prone to falling on to houses.
The community has improvised creatively with surrounding materials to build proper latrines and adapted to using tippy-taps.