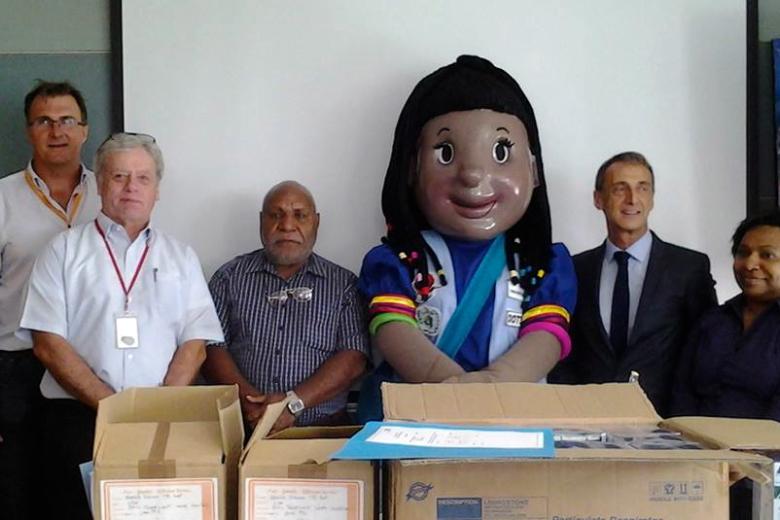 Papua New Guinea Receives a Boost to Battle TB
Monday, May 5, 2014
The National TB Program in Papua New Guinea received a boost with vital medical items for use in TB clinical work. The items, which included N95 Masks and TB Register Books, were presented by French Ambassador Pascal Maubert to the National TB Program (NTP) Manager Dr Paul Aia, at the WHO Conference Room in Port Moresby. 
The occasion was witnessed by officials from the National TB Program and partners including WHO PNG Country Representative Dr Pieter Van Maaren, National Department of Health Manager for Disease Control Dr Lucy John, World Vision Country Director Dr Curt von Boguslawski and the TB Technical Working Group. 
The 2,400 pieces of N95 Masks and 2,000 TB Treatment Cards (1,000 blue and 1,000 yellow) were procured by World Vision Papua New Guinea through a donation from the Embassy of France.
The masks and register books will complement the procurement of the National Department of Health in support of the National TB Program.
The TB Treatment Cards are required for all TB patients enrolled for TB treatment and for patient follow ups. Each patient is issued two treatment cards - one for the patient and treatment supporter (yellow) and one for the health centre (blue). The blue treatment card is kept at the health centre for their record while the yellow card is for the patient to keep and show when they come in to the health centre to collect their medication.
The N95 Masks will be distributed to TB clinics as needed. 
Ambassador Maubert said France is committed to the fight against three epidemics – AIDS, tuberculosis and malaria. 
The National TB Program thanks the France Embassy in its support to the National TB Program in the fight against TB in Papua New Guinea.