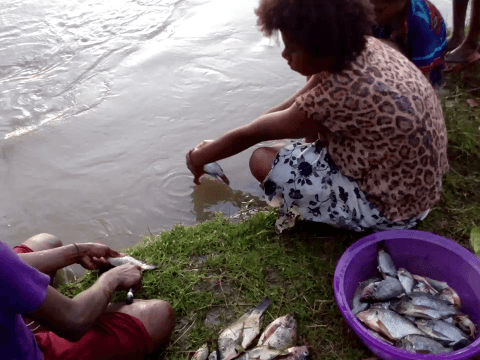 Saving money for education is important: Cocoa Farmer
Wednesday, July 11th 2018
Parents must learn to save money so they will be able to support their children's education, says Simon Kunabe.
Simon is the lead farmer for his community under  the Middle Ramu Cocoa Diversification and Marketing Project which is funded by the Productive Partnerships in Agriculture Project (PPAP).
Mr Kunabe is from Watebu village, Ward Nine in the Arabaka Local Level Government (LLG) constituency of Middle Ramu District of Madang Province,Papua New Guinea.
The cocoa project is funded by the PNG Cocoa Board through PPAP and supported by the World Bank.
The project is being implemented by World Vision in six communities in the Middle Ramu District. It currently has 600 registered farmers and has distributed an estimated 5000 clone cocoa seedlings.
Its aim is to support local farmers with technical advice and training on how to better manage cocoa. The support also includes the distribution of disease resistant cocoa seedlings to registered farmers.
Apart from the cocoa project, World Vision is also implementing another project on Financial Literacy and Inclusion (FLIP)  whcih is funded by the Australian NGO Cooperation project (ANCP).
Its main objective is to encourage farmers to practice better ways of saving money by encouraging them to create savings groups.
Mr Kunabe was speaking about the introduction of FLIP for cocoa farmers in the Middle Ramu district. 
He said," The cocoa and the financial literacy projects complement each other and it's a really good initiative that World Vision has brought to us."
Cocoa was previously a cash crop in the area but farmers lost interest when the crops were affected by the cocoa pod borer. Though it is now being re – introduced in the district, many are yet to generate income from it.
Most people in the district depend heavily on the sale of betelnut to earn an income but many still lack the basic knowledge of saving the money they receive.
Mr Kunabe said the income they earn is then used to create other economic activities such as trade stores and the retailing of  fuel for outboard motors.
He said," It is through these activities that we are able to make enough for our children's school fees."
Still, the process of transporting garden produce from the district to Madang is also a struggle and many do not go to towns because the cost of travel is very expensive.
Mr Kunabe said," Travel fare for one trip is K80, so for both ways it is K160 and the fee for one bag of food is K20."
From the prior, it is obviously a struggle for the people of Middle Ramu to bring either their garden produce or other goods to sell at markets to earn an income.
He added that this is one of the main reasons why locals refuse to go to town (Madang) and because they refuse, their lives, the life of their children and their children's education is affected.
Mr Kunabe said the whole family's livelihood is affected because they do not have money to meet their family's basic needs, for emergencies or to pay for school fees.
He said," education is very important but if there is no money to support the child's education, then the child will not be able to attend school."
He added that this is why the FLIP trainings offered to registered farmers under the cocoa project is very important as it will enable farmers to set money aside for later use.
Mr Kunabe said," saving money is important so that we will be able to support our children's basic needs.
"If we are able to save money or have the knowledge on how to invest, then we will be able to do so."
He encouraged other farmers in the area to learn as much as they can from the FLIP trainings offered by World Vision staff so they will be able to understand that saving money is very important.
The FLIP and cocoa projects is in its early stages in Middle Ramu District but it has produced good results in areas where both projects were introduced to complement each other – especially in parts of the Autonomous Region of Bougainville.