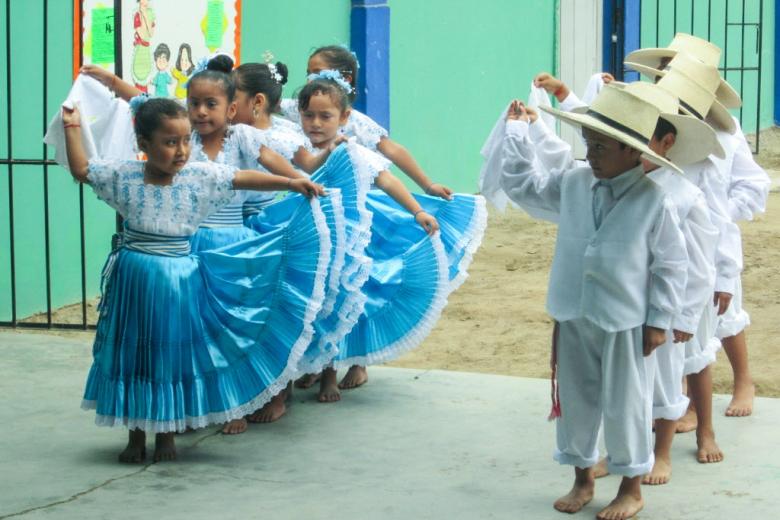 WV opens toy library
Thursday, October 11, 2012
The fifth toy library was inaugurated on June 27 in Centro Poblado Alto Moche in Trujillo to stimulate and develop the skills of children from 3 to 5 years of age.
The Initial School No. 1590 from Centro Poblado Alto Moche gathered in a special morning its 96 students and their parents to celebrate this significant contribution to the education. The Northern Marinera (a famous dance in Peru), the blessing by the priest and the participation of local authorities were part of the event where World Vision Peru officially handed the toy library to the community.
This is one of the four educational spaces already opened in the area of Trujillo and it is expected to benefit more than 500 children in two shifts, morning and afternoon. 25 guide mothers were trained during the last year to support this project as well.
Cesar Alva, Coordinator of the Area Development Program Miramar highlighted the importance of this joint effort "The Municipality of the Moche district has committed to this project by contributing with the construction of the bases and the concrete slab. Also, mothers and teachers contributed with materials for the toy library; this shows the importance of working together and joining efforts for a good quality education for our children.
Daniel Yepez, Education Specialist of World Vision Peru adds "A toy library is a safe space where children play, cooperate and organize themselves to develop their skills. In a toy library children not only play, they play to learn; that is the pedagogical sense of this initiative.
The toy libraries seek to develop in children, reading habits, social skills as self-confidence, assertiveness and autonomy that benefit the construction of their relationships. "We are very interested to form and strengthen values in the childhood to enable them to live in fullness," said Yepez.
In Peru, there are 66 toy libraries promoted by World Vision.