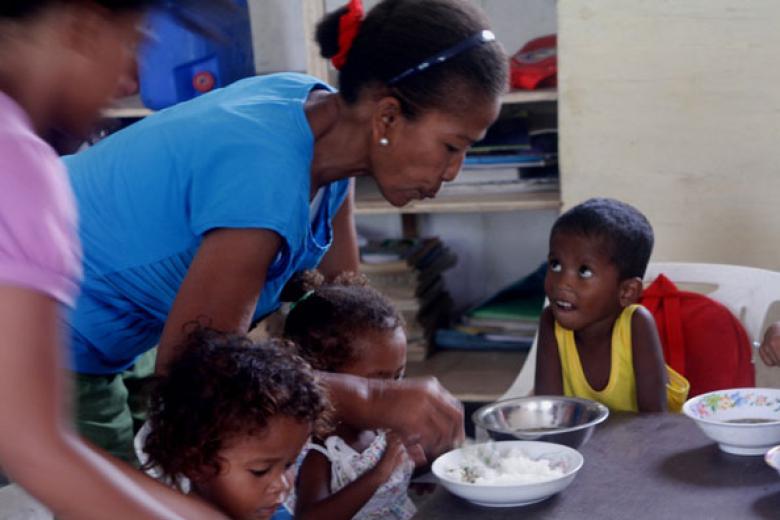 I receive healthy food at my day-care centre
Wednesday, October 24, 2012
When asked how the food was, Russel Cabalic, a four-year-old in a yellow shirt says, "It's delicious!" Thirty-five students get healthy and nutritious food as part of the day-care programme. World Vision constructed a kitchen for the centre so that volunteer mothers can cook for the kids. Teacher Bernida says, "Most of them come to my class without eating anything yet since the night before."
Children, who are from the Aeta indigenous group, are taught how to write in the day-care centre. Bernida Balintay is also of Aeta tribe origin. "Not all of my tribe members focus on buying paper and pencils for their children because the families do not have enough as well. So with my USD 60 salary per month, I buy what I can so that these children can have something to use. I give because I know God will take care of me," Bernida says.
Bernida continues, "I love this job, especially the children that I teach here. I believe this is my mission from God." Bernida, 52, is also the chairman of the Aeta-Belbel Multipurpose Cooperative, a community partner of World Vision. She reads a story to around 35 preschool indigenous students who were displaced by the 1991 Pinatubo volcano eruption.
Hundreds of people thanked World Vision for providing more than 200 hectares of land as their new home away from the dangers of lava around the volcano which stripped their livelihood and their loved ones away.
The Global Week of Action for Child Health Now will be held from 13 to 20 November. World Vision needs every leader to not only participate, but to influence staff to join the global mobilisation to call on world leaders to meet the commitments they have made to reduce child mortality and improve maternal health (Millennium Development Goals 4 and 5). Please say 'Count Me In – I want Children to Survive 5!' For more details on how to be involved in this campaign, please visit http://www.childhealthnow.org/.