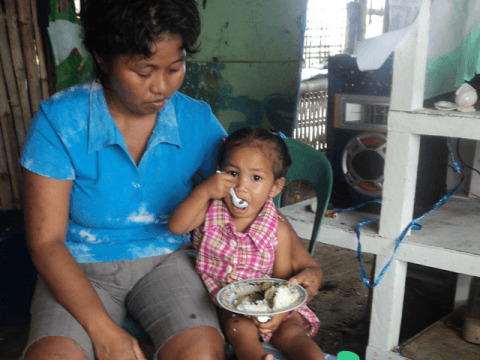 Nutrition classes help improve children's health
Tuesday, October 30, 2012
"Giving your children what they want doesn't make you a good mother. You have to know what they need especially on food".
"I have four children and all of them used to ask money from me or their father to buy junk foods and soft drinks in the sari-sari (variety) store, just close to our house. Every time my husband had a good catch from fishing, we indulged them."
"During meal time, I only prepare dried or fried fish for them because it was the only food they used to eat, aside from the fact that is cheap and convenient for us."
"All those times, I thought that feeding my children with anything will make them healthy as long as they eat three times a day. But I was wrong. All those food made my children unhealthy especially my two-year-old child Hannah. She used to be undernourished. Before, I wondered why all of them get easily sick - catching fever, cough and colds most of the time."
"But when a health worker weighed Hannah, we found out that she was under weight.  It was that time I found World Vision. The staff encouraged me to join a nutrition sessions which I readily joined as I was so concerned of the condition of my child."
"I joined the 12-day session of Pinoy Nutrition Hub where mothers meet in one of our neighbor's houses every day for a two-hour session of learning on how to properly feed our children, practice good hygiene, become health conscious and taking care of our children."
"Attending the sessions are a good opportunity for mothers as it also improved our relationship with God, aside from the lessons we shared on parenting and on how to properly feed our children. Health workers and health staff of World Vision have been there to help us."
"Whenever we go to the session, we contribute vegetables and firewood along with other mothers as we cook food for our children. The food we prepare for them consists of go, grow and glow foods."
"At first I thought that giving them these kinds of food is expensive for the family but I was wrong. Through the sessions, I found out that healthy and nutritious food can be found just right at your backyard. You will just have to plant it."
"With the 12-day sessions, we were encouraged to plant vegetables at our own backyard. World Vision provided us vegetable seedlings to be planted. The vegetables were used as ingredients to feed our children after every nutrition sessions."
"After sessions, children including my daughter Hannah ate what the mothers prepared and most of them were encouraged as they were joined by other children until they got used to eating vegetables. Perhaps they also realized that eating vegetables is delicious and healthy compared to dried and fried fish.
"When the 12-day session ended, we continue on giving our children the proper food they needed and we quarterly monitored their improvement with World Vision staff along with the local health staff and caregivers. Now we make sure that we are taking care of our family by providing them with proper hygiene."
"As we weighed Hannah, after the 12-day feeding on site, I am so happy that her weight increased and now she is back to the normal weight for her age."
"Hannah has really improved. She is growing well and now loves eating vegetables especially squash, malunggay (horse radish) and camote tops (sweet potato). We are so thankful to our village leaders for providing us toilets, as we used to just have a communal toilet."
"Since then, Hannah never got sick and became an active child playing with other children her age. Her skin has improved from being so pale and dry, just like any other children of the mothers who joined the sessions. As we saw how our children's growth, we share this with other mothers in our neighboring village."
"Health workers and caregivers, along with other mothers like me, are monitoring and teaching other mothers on how to take care of their children by teaching them the proper food, hygiene and to plant vegetables in their backyard."
Pinoy Nutrition Hub is implemented in World Vision project areas. It aims to quickly rehabilitate malnourished children, prevent future malnutrition and sustain the learned behaviors from the 12-day session by using available resources in the community. In the sessions, mothers are taught on good practices for feeding, proper hygiene, health, care, integrating economic development and spiritual nurture.
World Vision's Global Week of Action for Child Health Now will be held from 13 to 20 November 2012. World Vision needs every leader to not only participate, but to influence staff to join the global mobilisation to call on world leaders to meet the commitments they have made to reduce child mortality and improve maternal health (Millennium Development Goals 4 and 5). Please say 'Count Me In – I want Children to Survive 5!' For more details on how to be involved in this campaign, please visit http://www.childhealthnow.org/.