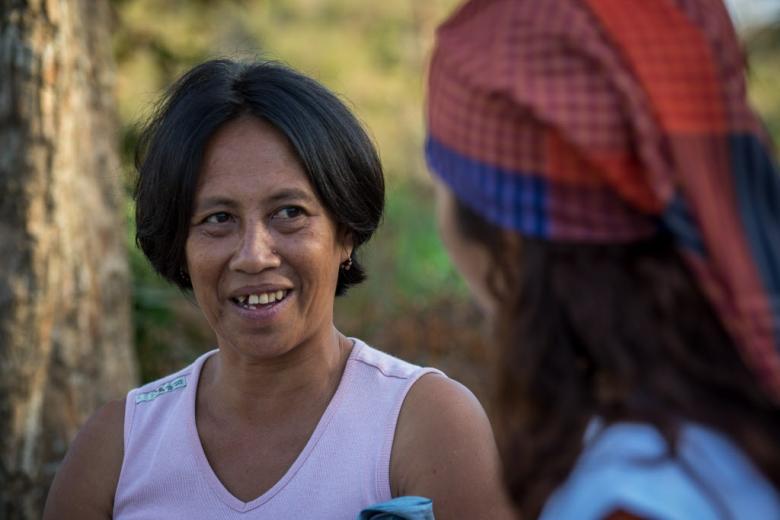 Typhoon Haiyan: A strong community takes on recovery
Monday, November 18, 2013
17 November 2013 | By Kathryn Reid
As a volunteer area leader in World Vision's development work in Trabugon, northern Cebu, Philippines, 

Bonafacia — her neighbors call her Pacing — monitors the welfare of children in her neighborhood and encourages parents to provide responsible care. 


Pacing has five sons of her own, including 15-year-old Jade, a sponsored child.


Typhoon Haiyan took a terrible toll on her community, but people there support each other, she says.

"We couldn't stand to have something for ourselves and see our neighbors in need. We share food, shelter, and other necessities," Pacing says. 


Pacing credits World Vision's sponsorship program for helping to develop community cohesion that will see them through the hard times. As part of the program, more than 80 community members meet monthly to share problems and discuss solutions.

"We mapped the hazards of this place, and planned evacuation routes and warning systems," says Pacing of a workshop in disaster risk reduction that World Vision facilitated for the community. 


Children learned how trees help prevent storm damage, floods, and soil erosion, and then took part by planting and caring for trees. 


The trees they planted are gone, destroyed by Haiyan along with many others, including prized coconut, jackfruit, pomelo, banana, and starfruit trees.

"Now it's much hotter, because our trees fell down," Pacing says.
"The children loved to climb those trees to pick and eat the fruit. Now, how can we afford to give them such healthy food?"


Will they replant? "Of course," she says. "We will clear the debris and collapsed houses so our children are safe. And we'll plant trees again."
Courtesy: http://worldvisionmagazine.org/story/typhoon-haiyan-strong-community-takes-recovery