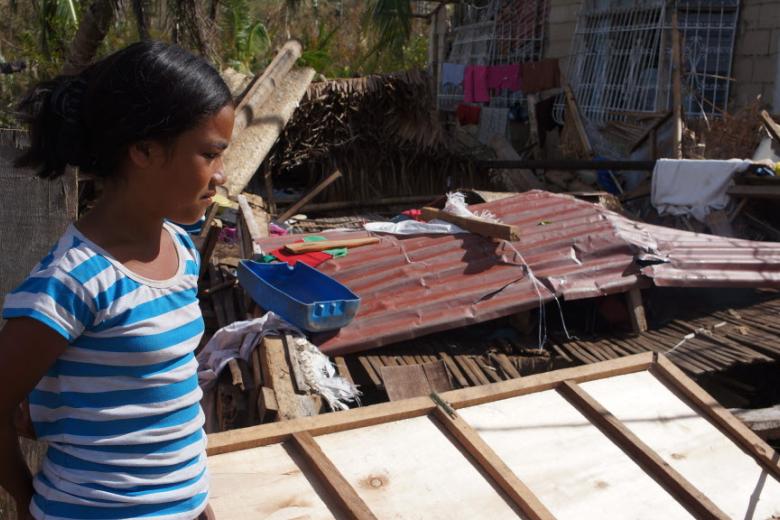 Voices of Survivors - Thankful for our Survival
Thursday, November 14, 2013
By: Crislyn Felisilda, Field Communications Specialist, World Vision Philippines
In the wake of Typhoon Haiyan, Rovita and her family huddled together in their house in Daanbantayan, northern Cebu. They thought staying inside their house was the best way to be safe. Her mother, Evelyn, being the only parent of five young children, thought that they could weather the storm like they have always done in the past. 
However, as the wind howled and brought heavy rains, Evelyn knew they were no longer safe. "My children were crying. I could hardly breathe, I wished my husband was there," recounts Evelyn. "We just kept on praying."
The family tried to escape at the back door. Then all of the sudden, their house collapsed. 
They were able to pack their clothes earlier but in their hurry to save their lives, they were not able to bring anything with them. 
"The wind kept pushing us while we were running to the school. I told my siblings to keep moving," narrates Rovinita. "I could barely see the surroundings. I got so scared."
Fortunately, Rovita's family was able to scramble to safety in a public school. They were joined with more than 300 families. They sought refuge in the classrooms. But refuge was brief. The classroom where they stayed collapsed too. Distressed, Rovita, along with other children ran from one room to another. "We kept moving. We were all trembling. The elders were securing the young ones," she adds. 
They moved to a classroom with many others. The room was filled with people, all wet and surviving the cold. But as the wind gained more strength, a tree feel, splitting the rooftop. "That was the scariest moment of my life. I thought I'd die," recounts Rovita. They were all grateful that no one got hurt.
"I could barely see the surroundings. I got so scared."
Rovita is grateful but worried about where to get food and water in the coming days. Temporarily her mom put up a temporary shelter by herself just beside the collapsed house. 
Five days after the typhoon, families are still dependent on donations and relief goods as people are still trying to put their lives back. The local leaders from the village have not been able to fully mobilize the relief efforts because they, too, are also affected.  
"We've barely eaten or had much to drink after the typhoon. Whenever a vehicle arrives, we run after it because we're thinking that there's aide," Rovita shares. 
PLEASE CONSIDER A DONATION TO HELP TYPHOON HAIYAN RELIEF EFFORTS. DONATE HERE