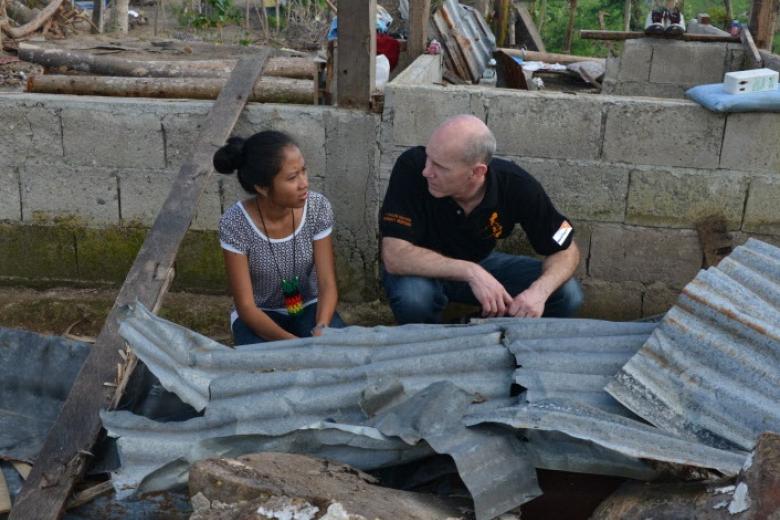 Facing the storm
Wednesday, November 13, 2013
When Typhoon Haiyan struck the Philippines on 7 and 8 November, it hit areas where World Vision already had many long-term development projects.
This was good and bad.
Good, because hundreds of staff in 20 affected programmes were able to jump into action straight away to protect children who were separated from their families, help people whose homes were demolished and plan for emergency response.
Bad, because our local staff suffered in the same way as the rest of the population of the archipelago. We feared for many who could not at first be traced, but they all quickly reported in for work. Staff lost homes and possessions. Their family members died. Their lives were completely disrupted, even as they reached out to help others.
With more than 11 million affected people, thousands dead and the local infrastructure devastated, World Vision's national and global emergency relief teams set off for this difficult-to-reach area immediately. The well-being of survivors, especially children, remains our greatest concern; World Vision is committed to responding with rapid provision of food, clean water, essential household supplies, hygiene kits and emergency shelter to help 400,000 people.
Watch video of first distribution here
As the storm hit the Philippines, I was preparing to deliver a speech to the Board chairs and senior leaders of our whole Partnership, which included this quote: "When the winds of change come against us - as they are now and will continue into the future - we will prove ourselves to be adaptable, innovative and obedient to our calling." I was speaking metaphorically but, as our staff respond to the most severe tropical cyclone on record, I am pleased to say that this adaptability, innovation and calling is real and practical, and helping children and communities in the Philippines right now. 
Our hearts go out to all the affected people in the Philippines, especially those who have lost loved ones. We are providing considerable resources, additional staff and prayer in this unprecedented response. Please join us.