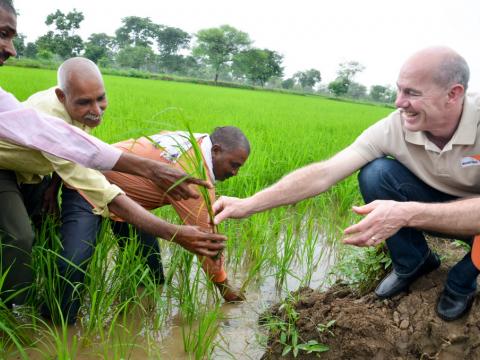 Fragile states - the final nutrition frontier?
Thursday, June 20, 2013
In Haiti, in Honduras and the Horn of Africa, meeting undernourished children and parents reminded me that, if you haven't got the nutrition part right in tackling poverty, everything else quickly unravels. 
If the world has any chance of completing the work of reducing stunting among the world's poorest children, we must give more attention to fragile states.
Badly-governed and conflict-prone nations have stunting rates half as high again as stable neighbours. Other poverty indicators, including those measured by the Millennium Development Goals, are just as bad.
In the last two decades, the number of children aged below five who die of causes that could be prevented has been halved. That's very good news. 
But among those dying right now, poor nutrition is a main cause in a third of cases.
Many undernourished children who do not die will still be blighted by poor health, poorer school results and lower lifetime earnings. 
Only 26 of 42 fragile states have joined up to UN's global effort to scale up nutrition
A report prepared by World Vision in time for June's UK-Government-led Nutrition for Growth Summit, which prepares for the next round of G8 meetings, points out that only 26 of 42 fragile states have joined up to the United Nations global effort to scale up nutrition.
This matters. An earlier study found that a tiny proportion of deaths in eastern DRC – fewer than one in 200 – was due to injuries sustained in conflict. Far more were due to the knock-on effect of malnutrition caused by food disruption that came with the fighting. 
World Vision's report finds that donors are non-committal about initiatives to tackle the causes of hunger in fragile states. While governments are discussing increasing their spending on weapons in some conflict-affected areas, few are giving attention to the hard work of building governance that gives the poor access to better food.
World Vision has pledged to spend US$1.2 billion to improve child nutrition between now and 2020. Part of our commitment is to urge donors to stop using insecurity as an excuse not to act.
Two weeks ago at the annual assembly of the World Health Organization (WHO), I signed a Memorandum of Understanding with global company Royal DSM, the world's largest manufacturer of the vitamins and minerals used in food fortification. This was note-worthy enough that it attracted the presence and enthusiastic endorsement of other partners, like the Tanzanian Minister of Health and WHO's director of nutrition. 
The strategies we are developing together will be a big step forward in enabling us to increase the impact of our child health and nutrition expertise. We'll need partnerships like this to extend our reach, especially in the fragile states where none of us is big enough to succeed alone.
During a month in which we celebrate International Children's Day, our vision of reaching every child with life in all its fullness requires us to keep drawing the world's attention, and our own, to the hardest countries, where children's lives – and stomachs – are least full.