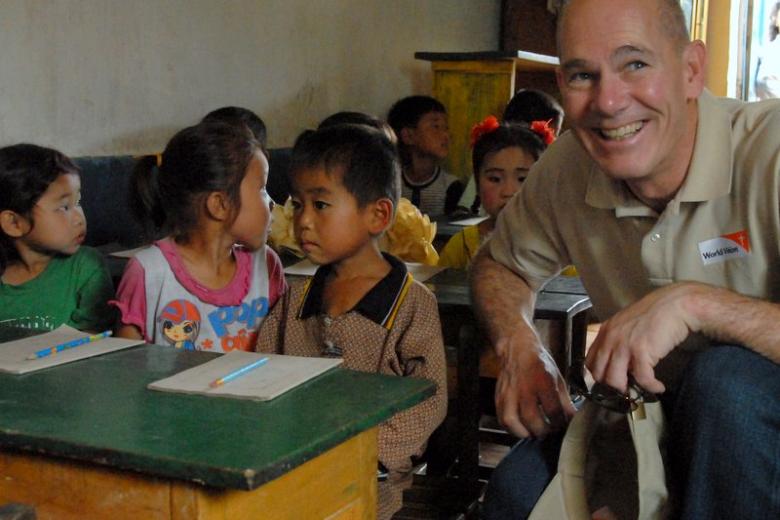 North Korea: Waiting and working in the DPRK
Monday, September 12, 2011
Sixty years ago, World Vision founder Bob Pierce completed a tour in part of central Korea, days before it was annexed by the armed forces of what is now the Democratic People's Republic of Korea.
He spoke openly of his fear that he would never again see the people he had grown to love, and that his new organisation, World Vision, might never be able to share God's love in practical ways with the children in the north again.
I have just returned from a visit to North Korea, accompanied by our East Asia Regional Leader Watt Santatiwat and a small team. Most people are unable to make contact with the outside world, but we saw that one of Pierce's predictions proved unfounded – World Vision is still at work in this country.
The economy is rigorously planned and there are no private enterprises. People receive their food as an allowance from the government. Only 16% of the land can be farmed, however, and poor harvests and recent floods have plunged an unknown – but significant – portion of the population into serious hunger.
We have distributed relief food to chronically hungry children – and we are currently negotiating to do so again following catastrophic storm-related flooding – but our compact programme there goes beyond that by working in communities to bring positive change and improved living conditions that last.
World Vision works through a local partner to ensure that children in two provinces benefit from clean drinking water, nutritious food supplements, improved schools, agricultural inputs and, soon to be completed, a biogas project that will provide fuel while saving trees.
These projects have been made possible by the patience and perseverance over the years of a few leaders and staff in the region who have determined to aid children there whatever the obstacles. Consistent support has come from devoted friends in South Korea, and other offices in Asia and around the world.
We are conscious of the political and historical issues that make working there complicated, but we long to do more for the children of North Korea. The communities with whom we have worked tell us they have grown to trust us and want more of our involvement. It is my prayer that the patient work we have done will give us an opportunity to respond in ever-greater ways to the hunger that is suffered by so many children.
The Bible records the prophet Jeremiah, speaking in a different nation during a time of disaster for his people, prescribing prayer and hope in God as the best medicine (Lamentations 3:22-26). The Lord's compassions never fail, he said:
They are new every morning; great is your faithfulness.
I say to myself, The LORD is my portion; therefore I will wait for him.
We, too, are waiting; but while we wait, we seek to do all we can for those children to whom we do have access.
I offer here some glimpses from the trip I made as part of a World Vision team.
Glimpse One: Bringing water and new ideas
World Vision has provided roofing and furniture to the school in Dochiri, in North Hwanghae Province, but school staff say that the clean water the 2,100 pupils now drink is the best development of all. Parents of the 7-16 year olds echo the comment – over and again, we were told that stomach complaints that used to keep children from attending school no longer do.
We saw a borehole that supplies water to a raised tank, with solar panels on the tank powering the pump while a larger array of panels supplies electricity to the lights and equipment in the school.
The community had identified water as their greatest need, and they also needed it in their homes. They approached the government-affiliated KAPES organisation with which we, and some 50 to 60 other outside agencies, are registered. Officials contacted us, we sent in a water engineer, and he offered the community a challenge. After hearing from old-timers about the cleanest sources of water in the area, he said the villagers could have their water – but they would have to lay a two-kilometre pipeline from a distant hill.
Around 150 people from 300 households in the village who could benefit from this provision got straight down to it. They dug the trench and laid the pipe to a smaller hill that overlooks Dochiri. There they helped build an 80 cubic metre tank, and from this connected pipes to the school, clinic and homes in a four kilometre radius.
Their voluntary labour lasted 40 days, and at the end of it the village had water that has been tested and found to be as pure as the commercial bottled water available in the country.
Each household gets 300 litres of drinkable water a day, piped directly to the home. Mothers no longer have to make lengthy and repeated visits to a dirty river source. Even during a drought, there is enough water to supply homes twice a day. Shallow and easily polluted hand-dug wells, which had begun to appear behind every home, are no longer needed.
"As a housewife, it has made life very comfortable for me," one mother told me in her kitchen, sunk below the floor level of the house in the Korean style. "The children used to miss school because of stomach pains, but now they attend every day."
World Vision sends staff to monitor our programmes and has taken local partners to visit community development projects in Laos, Thailand and Vietnam. What they learned of World Vision's transformational development model has changed the way other projects are run within the DPRK, says Kim Tong-Sik, one of those who travelled.
"Now we always work with communities to assess their priorities, and get them to work with us in implementing projects that will benefit the children."
This is the first in a four part series. Check back each week for new glimpses into World Vision's work in North Korea from WVI President Kevin Jenkins.