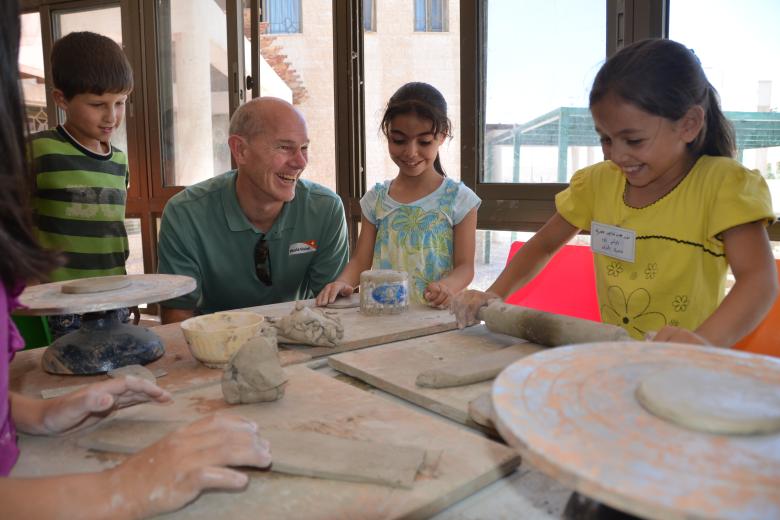 Protecting children among the Syrian refugees
Wednesday, July 2, 2014
Anas* grew impassioned as he told me of nights spent at home in Syria, with his five children kneeling on the floor and huddled in his embracing arms, listening to bombs falling on homes in their neighbourhood.
"All the time you wonder, the next one, is it going to kill us?" he recalled. "You see people killed and houses blown up, and you think, now it may be us. You have no idea where the next bomb is going."
Anas owned a restaurant ("We lived like kings in those days – business was good, life was good, we were comfortable") but it was destroyed in the nightly bombing raids. He could take it no more – he had no option but to get away from the increasing devastation of a war between factions of rebels and the government. He and his family ran for safety, like millions of Syrians before him.
"My brother was killed – we don't know where the body is. After that, my father had a heart attack and died from the strain of the situation."
Anas wanted to go to Jordan, but it was impossible to get there directly. "We had to go through the desert, through Iraq and into Jordan that way. My eldest son Ahmad is a type one diabetic, and he became very ill on the way."
Ahmad, who is a type-one diabetic , shows Kevin how he tests his blood sugar twice a day, with his siblings looking on in their home at Azraq refugee camp. He visits the clinic for insulin injections. 
Once in Jordan, Anas and his family were referred to Azraq, the brand new refugee camp which opened a few weeks ago. World Vision, which is providing piped water, latrines and sanitation for the first 30,000 people to occupy the camp, quickly befriended the family. Hygiene experts provided training as part of a commitment to keep new arrivals healthy. Other agencies, in a coalition headed by the United Nations refugee agency, UNHCR, are providing for the family's other needs.
Ahmad can't get all the medical tests he needs yet, but he showed me how he is testing his own blood sugar levels, and says he is able to get insulin injections at a clinic in the camp.
"We are very grateful to Jordan for helping us when we are in need, and to World Vision and the other groups here for their care," Anas told me. "But still, I don't want anybody to give me anything. I want to work again." This is a challenge faced by many Syrian refugees. One of our World Vision staff members calls it 'Limbo-land'.
Most of the Syrian refugees in Jordan don't live in refugee camps but have settled in communities. World Vision is working to help many of them, too, and the hard-pressed Jordanian communities who have generously agreed to welcome them.
We have set up 'child-friendly spaces' in 10 locations in the country. In them, children who have suffered things that no-one ought to endure can find a place of peace and safety to unburden themselves. They are supported by trained counsellors and make new friends in an unfamiliar country.
I met 200 children in one of those facilities in Zarqa. Through music, dance, drama, games, art and crafts, the children are encouraged to re-discover the joy of simple pleasures in a secure environment, and to begin talking through the things that have happened to them.
Some tell horror stories of seeing family members and friends killed; of desperate attempts to escape Syria and of parents left behind. But in the child friendly space, for a few hours each day, they can put that behind them and experience normality again.
"I like it here," 10 year old Tasmeen told me, as she worked away at a ball of clay. "It makes me think that one day I would like to be a teacher."
If there is hope in the story of Syria, it is in the faces of children who have been through so much, yet can smile once again – dreaming of better days to come.
* Name changed to preserve anonymity