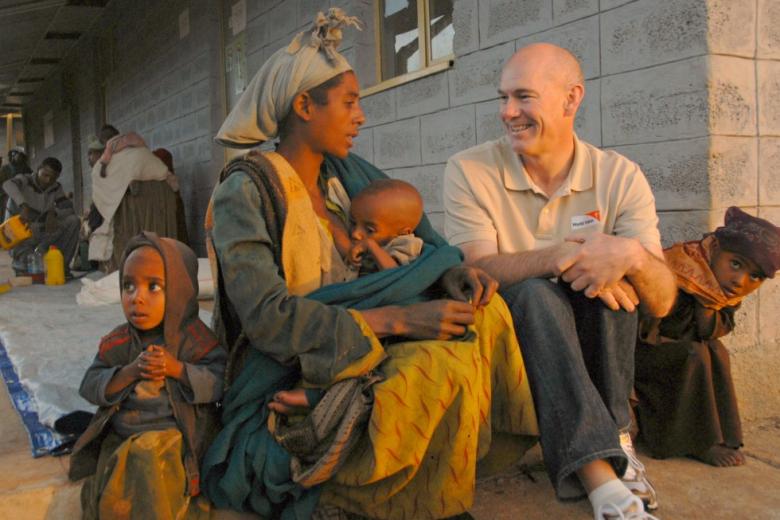 Saved from hunger in Ethiopia
Friday, October 21, 2011
Chaltu Begna, 25, told me there were times she thought she would lose her three children in the 2011 drought that affected her region of Ethiopia, three hours east of capital Addis Ababa.
Dr Sisay Sinamo, who was examining the family while I was there, said she had been right. He held just 9.4 centimetres of a tape measure around the upper arm of two year old Megersa – anything below 11 centimetres indicates severe malnourishment – and said the baby might indeed have died.
Chaltu's children, like many others, had succumbed astonishingly quickly to the lack of food after failed harvests.
Above - Telile, 4, has been receiving special fortified porridge from a feeding centre set up by World Vision. Photo by Nigel Marsh. ©2011 World Vision International
Megersa, with his sisters Telile, four, and Ture, seven, has been receiving special fortified porridge from a feeding centre set up by World Vision. Staff working in the local area development programme quickly raised the alarm as the hunger began to bite, and established the centre in days.
"Not a single child has died in this district," our Ethiopia national director, Tenagne Lemma, told me. "Not here, or in any other of our development projects."
World Vision is responding to the food emergency in the Horn of Africa with a range of emergency nutrition, water, sanitation, hygiene and non-food responses. Vitally, though, we have made a point of ensuring that our long-term community development work in Ethiopia, Kenya and Tanzania is not jeopardised by the drought. Our affected sponsorship programmes have allocated staff and resources to the essential work of keeping children fed and healthy.
While Chaltu and scores of other mothers and children received their week's ration of therapeutic porridge and other food items, rain began to fall and a glorious double rainbow spread itself across the late afternoon sky.
Here in central Ethiopia, there are promising signs of hope that the emergency may be coming to an end. Nearer the Somali border, over in Kenya, and in south and central Somalia, the situation remains critical for millions of children and their families.
Our vision is that every child will enjoy life in all its fullness. Whether it is through long-term development or emergency relief, please consider partnering with us.