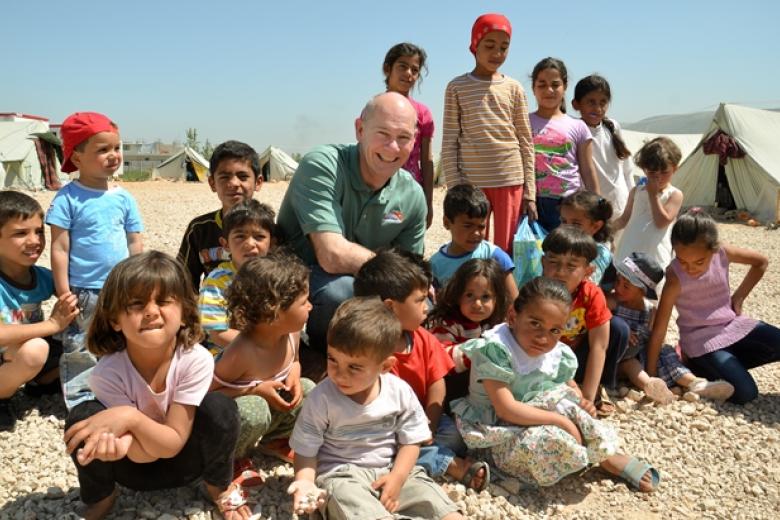 Writing to the UN
Wednesday, October 2, 2013
President of the General Assembly's Special Event Towards achieving the Millennium Development Goals
Wednesday, 25 September 2013
United Nations Headquarters, New York
Delivered by Mr Kevin Jenkins
World Vision International President and CEO
Excellencies, ladies and gentlemen,
I would like to focus on the next generation, and how they will look back on this moment in history.
If the Millennium Development Goals had not been created, millions of children would have died unnecessarily early, or been stunted through malnutrition, or failed to get an education.
The generation of those who thrive, grow, learn and participate because of these goals – and even the generation after them – may well have cause to look back on this great effort as one of the defining moments of our time.
The fact that the goals were created, and have been pursued with goodwill by so many world leaders, is an extraordinary achievement in the history of international development and human rights.
In seeing them through to their conclusion, and catching up where we are still behind, we have the opportunity to show the power of aiming high.
Meaningful improvement in the well-being of the world's most vulnerable people will be a key measure of our success as leaders.  There has never been a better time to take a firm stand and say that under our watch we will do everything possible to bring an end to extreme poverty, inequality and injustice.
Millions of the most disadvantaged, vulnerable and marginalised children have still not been reached by the MDGs – those with disabilities; those in fragile states; indigenous children; and those neglected simply because they're female.
These children also bear the torch of hope for our future.
We have a little over 800 days. A deadline is a great incentive, so let's not squander the opportunity.
As an organisation working in communities around the world, we have encouraged a process where children, families and local organisations have given us feedback on the MDGs and the Post 2015 process.
They tell us that we must now intelligently apply the lessons we have learned from what went right and humbly acknowledge the things we missed.
Let's respond to the cry of the 12 year old girl in a fragile state;
Let's bring freedom to the disabled boy kept hidden at home by a parent ashamed of the stigma he will suffer;
Let's get anti-retrovirals to the two-thirds of HIV-positive children who cannot access them now, and end that scandal;
Let's radically improve access to proper nutrition for the world's poorest children.  Proper nutrition may be the single intervention with the greatest possibility to impact outcomes in health, education and earning ability.
Let's shine a light into the dark world where children do back-breaking work or are sold for sex.
If we improve life for each of them, we will certainly make the world better for children everywhere.
Thank you.