Friday, March 29, Herat – Severe rain and floodwaters on Thursday night (March 29) hit western Afghanistan, with early indications that tens of thousands of people are affected.
"We're hearing from people in Badghis that it's the worst storm they've had in 20 years. These floodwaters are going to cause further devastation to families who have been barely coping with a drought for the past two years," said World Vision's Narges Ghafary in Herat.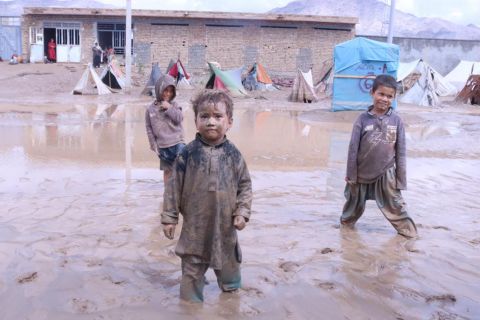 "Our response team is coordinating with government and partner agencies to assess community needs and flood damage. We'll be responding to families' needs as we get into areas that are currently but off by the flooding. Our biggest concern now is where are children going to sleep tonight, for many families, they were already living in tents and makeshift housing.
"We have response teams assessing the damage today, and we'll be responding to families' needs in the coming days.
"The need far outstrips the resources we have to respond."
Abdul Satar, 35, has been living in Herat for ten months, since fleeing him home because of conflict and drought. Father-of-five Satar says it was the worst flooding he has ever experienced, with their food and blankets wrecked in the flooding: "In the middle of the night everyone started screaming as the water flooded our tent and we couldn't hear what anyone was saying because everyone was screaming, we were scared and so were our children."
Former Prime Minister of New Zealand Helen Clark has just returned from a visit to Herat and Badghis, and said: "I've seen the flimsy tents some of these families have been living in after escaping the drought. These makeshift shelters stand no chance against rain on this scale."