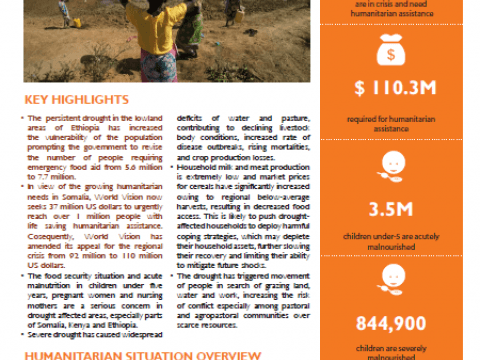 East Africa Hunger Crisis Situation Report 4
Tuesday, May 9, 2017
WORLD VISION IS SEEKING ASSISTANCE TO MEET THE NEEDS OF 2.2 MILLION PEOPLE SUFFERING FROM THE EFFECTS OF THE HUNGER CRISIS.

 KEY MESSAGES
 
The persistent drought in the lowland areas of Ethiopia has increased the vulnerability of the population prompting the government to revise the number of people requiring emergency food aid from 5.6 million to 7.7 million.
In view of the growing humanitarian needs in Somalia, World Vision now seeks 37 million US dollars to urgently reach over 1 million people with life saving humanitarian assistance. Consequently, World Vision has amended its appeal for the regional crisis from 92 million to 110 million US dollars.
The food security situation and acute malnutrition in children under five years, pregnant women and nursing mothers are a serious concern in drought affected areas, especially parts of Somalia, Kenya and Ethiopia.
Severe drought has caused widespread deficits of water and pasture, contributing to declining livestock body conditions, increased rate of disease outbreaks, rising mortality, and crop production losses.
Household milk and meat production is extremely low and market prices for cereals have significantly increased owing to regional below-average harvests, resulting in decreased food access. This is likely to push drought-affected households to deploy harmful coping strategies, which may deplete their household assets, further slowing their recovery and limiting their ability to mitigate future shocks.
The drought has triggered movement of people in search of grazing land, water and work, increasing the risk of conflict especially among pastoral and agro-pastoral communities over scarce resources.