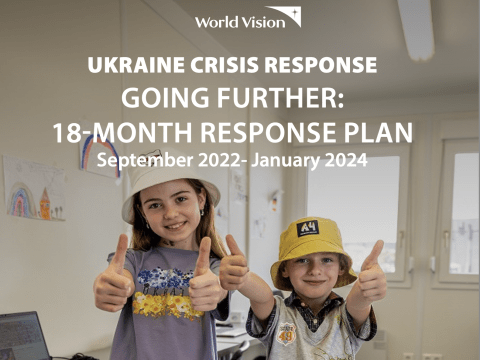 UCR 18-Month Response Plan: Going Further
Monday, November 28, 2022
Ukraine Crisis Response Strategy: Key Response Drivers
From its earliest days, UCR has been driven by the humanitarian imperative and by World Vision's Core Value of responsiveness. The work in Georgia, Moldova, Romania and Ukraine aligns with the World Vision OurPromise Strategic Imperatives.
The imperatives are to:
• Deepen our Commitment to the most vulnerable girls and boys
This response is child-focused, and targeting is sensitive to vulnerability criteria inclusive of and beyond displacement.
• Focus our Ministry for Greater Results
Activities are focused on areas (sectoral and geographic) where World Vision is most likely to make an impact-based on humanitarian need, our capacity to meet those needs and our identity as a child-focused Christian humanitarian organization.
• Collaborate and Advocate for Broader Impact
UCR's primary operational modality is partnering. 70% of programming is implemented through partners. Additionally, all programming is designed to work in concert with existing social protection mechanisms, reinforcing them increasing the likelihood of impact
•Deliver high quality, sustainable funding
UCR's funding strategy centres on building and maintaining strong relationships with strategic donors, leveraging private money and ensuring that any acquisition is contextually driven
• Live out our Christian faith and calling with boldness and humility
Churches and other faith-based organizations (FBOs) have been amongst the strongest and most consistent first responders. World Vision continues to partner with them to promote their work in this crisis.
Watch Response Director Chris Palusky on the UCR Strategy's Four Pillars