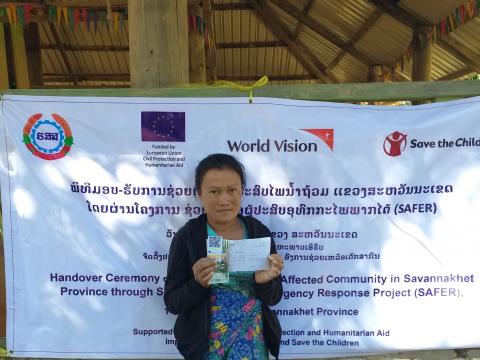 Flood and COVID-19 Response Situation Report February 4, 2021
Thursday, February 25, 2021
As of February 4, 2021, here are some highlights of World Vision Laos Flood and COVID-19 Response:
COVID-19 Response:
- World Vision's food assistance and cash project continued to support returnees, mainly migrant workers returning from Thailand in the Kaysone and Songkhone Quarantine centers.
- 528 migrant returnees were supported with a cash provision of LAK 200,000 (with total LAK 105,800,000 distributed).
- 820 villagers participated in WASH awareness events

Flood Response:
- A cash programme was implemented to assist the food security needs of vulnerable households.
- Renovation of schools commenced and the upgrading of the playground in Thankhamluem School completed.