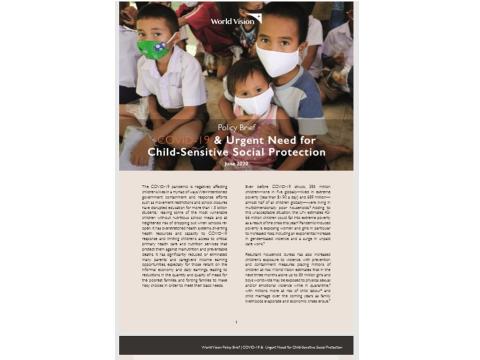 COVID-19 & Urgent Need for Child-Sensitive Social Protection
Wednesday, June 24, 2020
The COVID-19 pandemic is negatively affecting children's lives in a myriad of ways any of those most vulnerable and least able to weather the socio-economic impacts of this pandemic have the least access to social protection.
In fact, many, well-intentioned government containment and response efforts such as movement restrictions and school closures have disproportionately disrupted the lives of the most vulnerable. 
As of June 12, 2020, 195 countries have planned or introduced social protection measures in response to COVID-19, mostly in the form of social assistance, including cash, voucher and in-kind transfers such as food distributions and school feeding programmes. However, many of the most fragile countries, such as the Central African Republic, Syria, Yemen and Burundi, still have no national measures in place.
This policy brief looks at how World Vision is responding to the needs of the most vulnerable and provides recommendations for what governments, the UN and other NGOs can do to lessen their suffering.