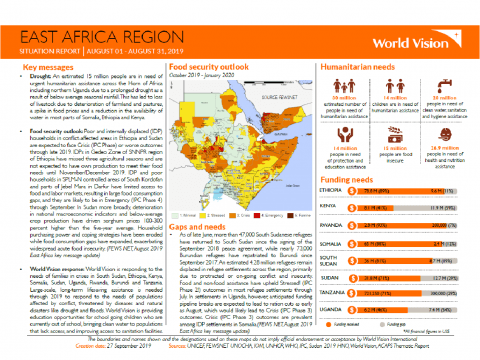 East Africa Region - August 2019 Situation Report
Monday, September 30, 2019
Drought: An estimated 15 million people are in need of urgent humanitarian assistance across the Horn of Africa including northern Uganda due to a prolonged drought as a result of below-average seasonal rainfall. This has led to the loss of livestock due to deterioration of farmland and pastures, a spike in food prices and a reduction in the availability of water in most parts of Somalia, Ethiopia and Kenya.
Food security outlook: Poor and internally displaced (IDP) households in conflict-affected areas in Ethiopia and Sudan are expected to face Crisis (IPC Phase) or worse outcomes through late 2019. IDPs in Gedeo Zone of the SNNPR region of Ethiopia have missed three agricultural seasons and are not expected to have own production to meet their food needs until November/December 2019. IDP and poor households in SPLM-N controlled areas of South Kordofan and parts of Jebel Mara in Darfur have limited access to food and labor markets, resulting in large food consumption gaps, and they are likely to be in Emergency (IPC Phase 4) through September. In Sudan more broadly, deterioration in national macroeconomic indicators and below-average crop production have driven sorghum prices 100-300 percent higher than the five-year average. Household purchasing power and coping strategies have been eroded while food consumption gaps have expanded, exacerbating widespread acute food insecurity. (FEWS NET, August 2019, East Africa key message update)
World Vision response: World Vision is responding to the needs of families in crises in South Sudan, Ethiopia, Kenya, Somalia, Sudan, Uganda, Rwanda, Burundi and Tanzania. Large-scale, long-term life-saving assistance is needed through 2019 to respond to the needs of populations affected by conflict, threatened by diseases and natural disasters like drought and floods. World Vision is providing education opportunities for school going children who are currently out of school, bringing clean water to populations that lack access, and improving access to sanitation facilities.