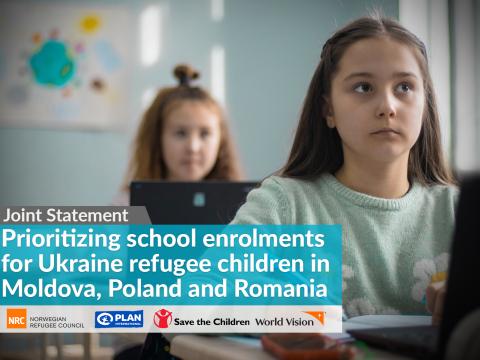 Joint Statement: Prioritizing school enrolments for Ukraine refugee children in Moldova, Poland and Romania
Saturday, September 23, 2023
Many refugee children are at risk of losing another one or more school years if they are not better supported to enroll in the national school system. We are calling for a renewed sense of urgency, and action among host country governments and donors to ensure all refugee children from Ukraine can enroll in and attend school in national systems as soon as possible.
EU and Donors
●  The EU and bilateral donors should financially support national governments and local authorities to expand school capacity and offer age-disaggregated reception/preparatory classes (maximum 15 students) available to all refugee children from Ukraine which foster social integration and basic host community language mastery.
●  The EU together with the MoES in Ukraine should maximize the quality and compatibility of education in host countries and the country of origin, including by putting in place uniform directives on recognition of learning completed outside Ukraine if re-joining the Ukrainian system.
●  States hosting fewer refugees should provide information to refugees in states hosting higher numbers to help them make informed decisions about their place of residence. This could be coordinated amongst EU Member States by the European Solidarity Mechanism.
Education Authorities in Hosting Countries
●  National integration strategies must be enhanced in line with contextual challenges, and investments made in additional resources to immediately implement the strategy in preparation for the 2023-24 and subsequent school years. Resources must include financial support for cross-cultural assistants and the expansion of overall school capacity.
●  Clear and transparent education pathways must be established for all children, including full enrolment in national systems (avoiding "audients" who don't have access to certification) and detailed and accessible information on the recognition of learning from host countries if they return to Ukraine
●  It is essential to hire additional trained teachers for schools which have large numbers of refugee children and/or to ensure that there are trained cross-cultural teaching assistants in place. National in-service training programs for teachers on integration strategies must be enhanced, recognizing the strain already placed on teachers and their wellbeing needs.
●  Schools must be supported to ensure MHPSS is mainstreamed in classrooms and schools to mitigate long-term effects of trauma.
●  Children and caregivers should receive accurate information on their education options, whether in their host country or elsewhere, and provide support to help them make decisions in their child's individual best interest. This should take into account their age (e.g. older children completing high school compared with younger children), the availability of education in their place of residence and when they arrived from Ukraine.
●  Efforts to provide Ukrainian children with education should be extended to refugees and migrants of other nationalities, and do not risk discriminating against other groups of people seeking protection in Europe.
●  Ministries of Education in Ukraine, Poland and Romania, based on the memorandums of understanding, to identify solutions for the professional integration of refugees with a teaching and pedagogical background in order to support host countries' education systems.
●  Ministries of Education in refugee hosting countries should revise school policies to support preventive measures against bullying and discrimination, and create platforms to support school- based social cohesion efforts.
Education Stakeholders and Civil Society Actors
●  Education stakeholders and authorities must drastically increase provision of support activities during summer (language acquisition and language bridging programs, catch-up support and MHPSS provision) to prepare new children to enroll in formal schools and to support already enrolled children to remain in education.
●  Stakeholders should work closely with local communities to help identify out-of-school children and provide their families with accurate information about their education options and recognition of learning.
●  The needs and voices of school principals and head teachers should be amplified to ensure that school level needs and challenges are well-understood at a national level.
●  Specialized education organisations and institutions should work closely with schools and local authorities to provide expert support, for example MHPSS support , where needed.
●  Teachers and education personnel In addition, They must also be trained to reduce bias and promote social cohesion in the classroom.
●  Strengthen and invest in teacher training and professional development in crisis contexts, including adequate training on PSS and socio-emotional learning (SEL).