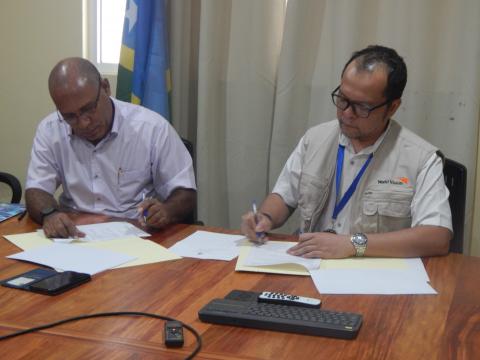 World Vision partners with government for sustainable management of fisheries and livelihood integration
Thursday, March 4, 2021
World Vision Solomon Islands (WVSI) and the Ministry of Fisheries and Marine Resources have formalized their partnership on March 3, 2021, through a signing of a Memorandum of Understanding (MOU) at the Ministry's office in Honiara for sustainable management of fisheries and livelihood integration.
The MOU was signed by the Ministry's Permanent Secretary Dr Christian Ramofafia and World Vision Solomon Islands National Director Jimmy Nadapdap.
Permanent Secretary Dr Ramofafia said that the partnership is based on mutual interest to work in collaboration to achieve sustainable management of fisheries and integration of livelihood diversification in Community Based Resource Management initiatives (CBRM).
"Livelihood integration in community marine managed areas is one of the strategic actions to upscale the national community-based resource management initiatives. The Ministry through the Inshore Fisheries Division is empowering communities through CBRM programs to sustainably managed their resources," he said.
Dr Ramofafia further highlighted that implementing livelihood programs in coastal communities is important to strengthen the local economy especially in these trying times of the pandemic.
Meanwhile, WVSI National Director Mr Nadapdap said, the MOU will strengthen the relationship between the government and WVSI.
"Recognizing that both parties have a mutual interest to work in collaboration to achieve sustainable management of fisheries and marine resources and for successful integration of livelihood diversification in the targeted community," he said.
Mr Nadapdap highlighted the MOU will enable the ministry and World Vision to reach understanding on areas they agreed to work together on especially on community-based resources management and livelihoods projects.
"MFMR and WVSI will also work together with other provincial and community partners where appropriate," says Nadapdap.                                               
He said the MOU also clearly define the working relationship and contribution to this relationship by both parties.
"It will assist to confirm the contribution from each party in terms of technical expertise, information, human resources, financial resources and other relevant items, to ensure sufficient support to the implementation of relevant projects and initiatives. " Mr Nadapdap added.
Mr Nadapdap further highlighted the projects relating to fisheries that World Vision is currently implementing.
"Currently, we have two projects relating to fisheries, where one is Marketing Linkage Phase II that rolling out at South Malaita and Marau, Guadalcanal. This project includes establishing saving groups and training on business ideas and providing support to the project like Esky and Deep Fridge," says Nadapdap.
"Another project is funded by the Australian Humanitarian Partnership for COVID-19 relating to Aquaculture. For this discussions is underway with the Ministry of Fisheries on Aquaculture," he added.