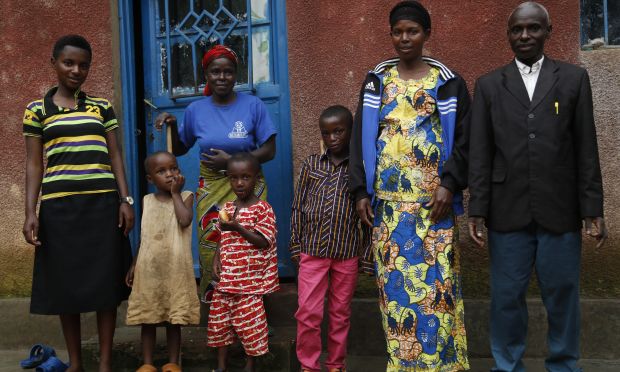 "Before, my home was not full of all these animals. My siblings and I barely drank milk unless one of us got sick, that is when my mother had to go and implore neighbours to give her a pot of milk. At school, I had to use my friends' pens and papers because I did not have any material for myself".
With a gentle voice, 17-year-old Joyeuse recounts her past life. She lives with her parents and seven siblings in Gakenke, northern Rwanda. The family lives in a house on the top of a hill surrounded by green plantations of bananas, maize and beans. Since she started being sponsored, a lot has changed for Joyeuse and her entire family.
"The first time I received a present from my sponsor, I did not know what was going on. I remember my parents were very happy and were saying that God had remembered them", Joyeuse recalls with a smile. She is sitting with a notebook in her hands surrounded by her two young brothers; four-year-old Elisé and nine-year-old Jean Pierre.
Joyeuse has been sponsored since she was 6. She was selected by World Vision's community workers due to the difficult situation her family was going through during that time. A situation that has now improved.
"With the money I received, my father started by buying pigs and goats. He later acquired new land to cultivate more maize. He recently brought two cows that give us milk every day and we are now living in a bigger house," Joyeuse says proudly.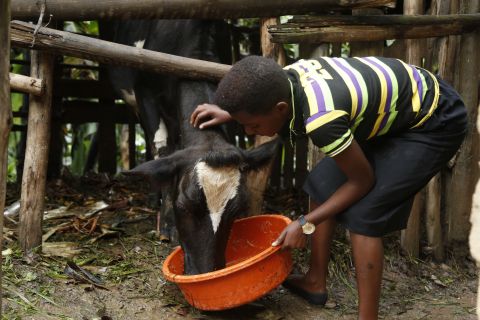 Joyeuse, now in 4th grade at secondary school, dreams of becoming a nurse. A dream she now considers possible. "I feel so confident now, with all the support I am getting from my sponsor, I believe that if I study hard I will achieve many things" she adds.
In addition to the money, Joyeuse's sponsor has been sending other presents like school furniture and clothes. "I use the coloured pencils to draw maps in the Geography course, "she explains.
The presents that Joyeuse enjoys the most are the coloured dresses she often receives from her sponsor. "I can't wait to wear this one next Sunday at Church" she says showing the new dress with orange, black and white stripes she recently received.

Joyeuse's sponsorship has also benefitted all her siblings. With the money received, Joyeuse's parents have been able to pay for all their children school fees as well as for the family medical insurance.
"I wish I could meet my sponsor and show her what she has done for me and my family", Joyeuse says, and adds with a deep expression: "please let her know how grateful I am".