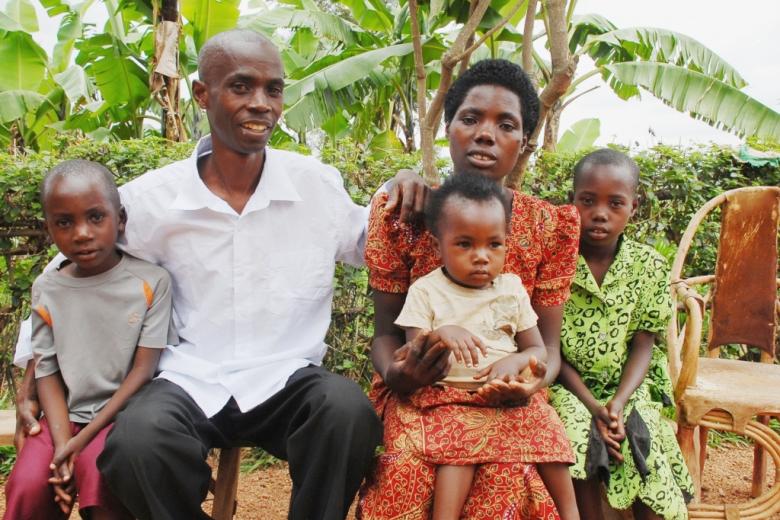 Personal Development Workshops making miracles in Rwanda
Thursday, February 6, 2014
Personal Development Workshops help a husband realise his mistakes of resorting to violence with his family, and give him the tools to turn his life around.

Balancille Musabyimana is a 30-year-old housewife that for many years lived in what she describes as hell. She was born in Mwogo sector Bugesera district located in the Eastern Province of the Rwanda. 
Having grown up in a poor family, her dreams for higher education were limited.
"My parents educated me up to primary six. Knowing their income; I always knew it was impossible for me to continue to higher institutions since I had seen my elder sister and brothers drop out of school. My dream was getting married to a loving and caring husband and to have children of my own," she says.
It wasn't long before she met a man. "We grew up from the same sector but different villages. He was two years older than me. We met once in a while when he came to visit his relatives who lived in my village.
"We fell in love and moved in together. We had our first child. A beautiful girl, she was a blessing. I remember the joy I felt when I gave birth. Alice is now seven. God later blessed me with two more children, another girl and a boy," she says.
"Although my husband was not as loving and and caring as the husband I had asked God to give me, I loved him. My mom always told me that marriage was not an easy institution. I was patient," Balancille adds.
According to Balancile, a time came when her husband Abraham Bimenyimana, now 32, became so detached from the family, like they had terribly wronged him.
He became very hostile. He did not provide for his family. Instead, he spent all the money drinking.
He always came back home late and beat his wife almost every night.
Life became very difficult for Balancille and her three children.
"Children were terrified whenever he came back home drunk, they always felt uncomfortable and sometimes ran to hide whenever they heard him shout at me to open the door," she recalls.
Balancille's family depended on subsistence farming on a small piece of land. She was a housewife with no other source of income, and Abraham worked as a house builder and did part-time jobs on construction sites. He stopped supporting his family. The children lacked sufficient food, they did not have medical insurance and the elder daughter dropped out of school in second grade.
According to Balancille, the children were the major victims in this conflict.
"As an adult, I was able to handle hunger, eating once in a day. But children, especially the youngest girl Atete, could not handle. Sometimes they cried in the middle of the night because of hunger," she says.
It was becoming too much for Balancille. She had reported the case to other family members but no one could help. She recalls the time she took all the children to a bar where their father was drinking. She tossed them to him and went back home. She still remembers the drama that night, everyone watching, children crying; they were a talk of the village. She was very furious. She could not imagine a father starving his own children.
"He beat me into coma when he came back home that night. I was rushed to a hospital by my neighbours and got admitted for weeks. He was arrested and sentenced to prison for a period of one year. You can imagine what people talked about us that time. It was terrible. I suffered with kids for a year, the young one ended up getting kwashiorkor due to malnutrition," she says.
According to Abraham, the time in prison did not change anything, "I was furious when I came back home, I did not know what was in me, probably a mixture of guilt and bitterness. I saw her as an enemy and even stopped eating her food thinking she would poison me. The hostility spread to children, I called them hers. I wanted to show every one that I was still the same man; the police gave up on me. It's like there was a devil hidden in me that was forcing me to be that hostile," he recalls.
According to Balancille, local leaders advised her to divorce him.
"I thought about leaving many times but I had nowhere to go with all the three children. I could also not leave them alone with such a father. I resorted to revenge. Sometimes I would not keep food for him," she says.
Abraham's family had given up on him. According to Abraham's father, Ezekiel Hitimana, the entire family fully believed he was bewitched.
Change
According to Ngenda Area Development Programme (ADP) Manager Zeburiya Mukampamije, gender based conflict is the major challenge affecting children in Mwogo sector. She says that the ADP decided to do a personal development workshop in Mwogo due to the reports of gender based conflicts in many households.
According to Zeburiya, some of these conflicts originate from the old traditional beliefs that the man has to be tough and feared by the other members of the family. Another reason is the effect of the 1994 genocide, where the grief among some husbands due to losing all or some of their family members makes them different and hostile.
The workshops, according to Zeburiya, use a crosscutting approach in peace building that teaches people to deal with grief, reconciliation and forgiveness.
"My life changed when I was convinced by a World Vision volunteer to join the workshop. I refused but later called him to confirm I would attend, hoping that World Vision would give me money for attending. I was not given any money but what I got was more precious than a lot of money," Abraham says.
After the first session, Abraham was encouraged to come with his wife the following day.
"The workshop gave me time to think about my life, my family. Testimonies made me feel the desire to become a better person. I realised it was pride. I wanted to be feared. I cried when I realised how a bad husband and father I was," he says.
According to his elder daughter Alice, 7, Abraham is a changed man.
"He no longer beats mommy. We are no longer scared of him. He is our friend now. He even takes me to school on a bicycle," she says.
Shortly after the training, Abraham sincerely asked for forgiveness from his wife. They even decided to strengthen their marriage by doing a civil marriage.
"I feel like I've just got married. We have decided to forget the past and are enjoying our new marriage," explains Abraham.
Positive impact to the family
According to Balancille, they now sit and plan together.
"We have joined forced to develop our household. It is unbelievable what we have accomplished in a period of only two years," she says.
The now cheerful couple has managed to renovate their three-room house with new iron sheets and have managed to buy two cows. One has already started providing milk for home consumption, which has greatly improved the nutritional status of the children. They are optimistic they will have extra milk to sell when the second cow gives birth. They are able to pay medical insurance for all the children and have been able to buy a bicycle, which is the main means of transport in most remote parts of the country.
"My children are healthy and happy. Alice has gone back to school and it's amazing to see my husband riding a bicycle taking Alice to school," Balancille says.
"Our household was known across the village for violence but now people look at us in admiration wondering how such change could happen to people like me and my husband. They cannot believe. Some people think my husband was suffering from a mental disorder and that World Vision funded his medical treatment," she says. "I now know that doctors heal diseases but not the soul. God does heal the heart and he used people. This time he used World Vision."