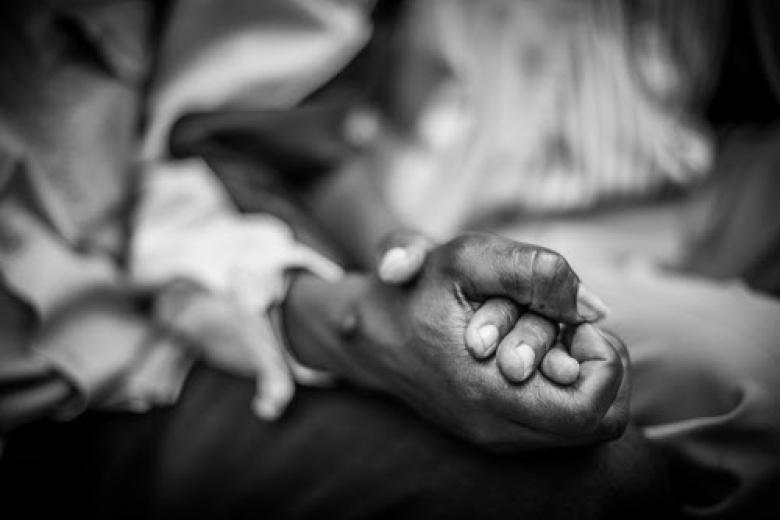 Rwanda Genocide: healing hearts
Friday, April 4, 2014
April 2014 marks 20 years since the Rwanda genocide began.  Here is the story of Andrew Birasa and Callixte Karemangingo, two friends torn apart and later reconciled through World Vision's peacebuilding programme. 

Andrew Birasa, 50, was happily married, surrounded by friends and family, in a village in southern Rwanda.

"During that time I was living a great life," he says. "I had many relatives around me and many friends and neighbours who were like a big family... We didn't have any conflicts with our neighbours."

Until that month in April 1994 when those neighbours turned on Andrew's family. His wife, Madrine, was a Tutsi. She was a target.

But it wasn't just neighbours who killed Madrine's entire family. Part of the mob was Andrew's childhood friend Callixte Karemangingo, 42.
Andrew Birasa, reflects on the horrific details of what happened 20 years ago. Photo by Jon Warren
"It was a surprise to us—to me especially. Before the genocide we lived in peace and harmony. We did intermarriages between the Hutus and Tutsis... We were like brothers. But things changed all of a sudden and people started killing each other."
Andrew did his best to hide his wife, Madrine, and her family, all Tutsis. "Some even came to my house. They were discovered and killed." Madrine survived the genocide but lost her father, mother, and five siblings.
"People had lost their minds. It's like they were like animals," says Andrew. And one of those "animals" was his good friend, Callixte. "I knew him from childhood," says Andrew. "He was my neighbour."
Watch a video of Andrew and Callixte telling their story.

Callixte looked up to Andrew. "He was older than me, but he liked selling things that kids liked," says Callixte. "He sold groundnuts and biscuits so I always came to him to buy things. He was a very good person."
Their mutual admiration turned to hate during the genocide when Callixte was part of the group that killed Madrine's entire family.
"Hatred developed among people in this village," says Andrew. "Those who survived against those who killed. Those friendships that characterized this village disappeared. It was replaced by hatred and distance."

The fighting stopped in Andrew's village and all over Rwanda when the Rwandan Patriotic Front, an army of Tutsis and moderate Hutus, led by now President Paul Kagame, ended the genocide with a military victory in July 1994.There were too many genocide perpetrators for the courts to try—so courts called Gacaca courts, based on traditional Rwandan judicial principles, were set up in villages to try violators. Villagers stepped forward to implicate those who they had seen participating in the killings.

It was Andrew who implicated Callixte.

"I hated him," says Andrew of his former friend. "My wife didn't have anyone left in her family."
Relief Begins
By July 1994, the war was over, and World Vision began to work reconciliation, unity, and healing into every program it undertook in Rwanda. 

World Vision had to rebuild houses and schools in the areas. "[World Vision] opted for sustainable activities," says Abouba Bigirimana, who witnessed those early relief efforts and now serves as a community volunteer with World Vision. "One of them was identifying orphans and child-headed families, and widows, and other vulnerable households that didn't have a shelter whose houses were destroyed during the genocide. They started by building them homes and renovating some of the houses." 

In 1996, when genocide survivors who had taken refuge in Congo began to return to their homes, World Vision started a reconciliation and peace-building department. 
Reconciliation, necessary and foundational in order for reconstruction to occur, is integrated into all of World Vision's programming. 
"Reconciliation was necessary and a foundation for every initiative," says Josephine Munyeli, World Vision Rwanda's specialist for national healing, peace building, and reconciliation. "If we were to do development work straight away when people had not yet dealt with their painful past, we would be heading nowhere. People carrying deep pain cannot be productive."
To rebuild a shattered country, World Vision developed a specific model that endures today—a two-week programme of sharing intensely personal memories of the genocide, learning new tools to manage deeply painful emotions, and considering a path to forgiveness. Those who had participated in the genocide were brought face to face with, or wrote letters, to those who had been victims. 

The approach was replicated all over the country and embraced by the new government. It was often resisted at first and sometimes took years to change hearts but in case after case—it worked.
Read about a World Vision photojournalist's experiences while on location during the genocide. 

"Thousands of people went through the process," says Josephine. "More than 200 trainers were trained. 2,000 survivors and perpetrators went through healing training. And 2,000 youth went through PRAY—Promotion of Reconciliation Among Youth—which used dance, drama, poetry, and artwork to help traumatized children express their feelings."

And it worked. "The workshops were very successful—100 percent," says Josephine. "We do not know how every individual is doing, but whenever we meet with someone who went through the process, they are doing fine."
Reconciliation Takes Root
Andrew and Madrine began to hear messages of reconciliation as they worked on the village's World Vision-supervised projects. There was a whirlwind of activity in the village, and it all included a reconciliation component.

"We can't say all the things that World Vision did in this village," says Andrew. "They rehabilitated houses that had been destroyed. They provided shelter to survivors whose houses had been completely destroyed. They provided clothes. They provided food for people who hadn't been able to harvest for three months."
Marcella holds her little baby, as she takes a break from working in the fields. Photo by Jon Warren 

Staff reached out to Marcella, Callixte's wife. Callixte had gone to prison in 1995, leaving Marcella with two young children. She had given birth to the oldest, Jean Bosco, on the side of the road, unable to make it to the hospital. "I struggled," she says. "It was unbelievable. It was the first time I'd even been alone with children to care for. They all looked at me for support and I didn't know what to do."

Marcella needed a miracle. 
Healing through Helping
Two women stood up to volunteer for sponsorship in Andrew's village: Andrew's wife, Madrine, and Callixte's wife, Marcella. They still avoided each other. Callixte remained in prison and Andrew had nothing but hate in his heart for Callixte. But in spite of life's hardships, Marcella wanted to give back. World Vision had built her a house, provided school fees and books for the boys, and opportunities for her to work. "Knowing that World Vision was supporting my children, I stood up," she says. 
Madrine and Marcella share a quiet moment. Photo by Jon Warren
Both Madrine and Marcella were picked as community volunteers. The two women began working together, looking after the children and continually working together on projects, learning about peace and forgiveness. 

"Sometimes we would dig together on other people's farms," remembers Marcella. "She didn't blame me. She didn't look at me with the bad eye. But the hatred between our husbands kept us apart."

The hatred kept their children apart as well. Many of the children were of the same age and wanted to be friends. But hate severed any chance of relationships. Andrew's son Manuel remembers this troubling time. "We were forced to keep a distance," he says. "They wouldn't let us mix. But we wanted to play with everyone."
Today, Andrew and Callixte's children are as close as brothers. Photo by Jon Warren
Working on projects, focusing on children, and training together melted both women's hearts. "At first I hated her because of what her husband did," says Madrine of Marcella. "After training and listening in church, I came back to my senses."

Madrine began to take food to Marcella. She took on a maternal role with the younger women, healing through helping.
Two Families Reunite
For Andrew and Callixte, the road to recovery had been an arduous journey. Callixte began to heal in prison, says his wife Marcella. "My husband changed a lot in prison," she says. "He is an artist. The songs he sang and performed affected him. He went through reconciliation workshops. At the end he felt, what happened happened. I need to live a new life."

When Callixte was released from prison in 2007, he came back to the village. The two families began to attend church together.
At church, Andrew preaches and Callixte reads scripture. Photo by Jon Warren

"We went to church and heard the pastor preach," says Marcella. "One day we were all at the same service. It was as if the pastor was talking to us. He looked right into our hearts. After church we said, 'We have got to talk.' In 2010, we got back together. Since then we have been close."

Now their children could play together. "Our children saw us change," says Madrine. They watched their parents' hatred turn into friendship, Today, their sons Jean Bosco and Manuel, both 19, are like brothers. "He's my best friend in life," says Manuel, in perfect English.
COWS AND COFFEE
The cow project that World Vision began in the village where Andrew and Callixte cemented their growing friendship. Villagers were given cows to raise for milk and fertiliser. The fertiliser would be used to grow coffee plants. Villagers combined their plots to create bigger farms on which to grow the coffee. In every group were genocide perpetrators and survivors so that World Vision would continue to talk through the issues of healing and reconciliation.
They are starting a side business with cows, walking together to purchase cows from the market and reselling them for a profit. Cows are now just cows, say Callixte. They symbolise nothing but opportunity. "Cows are no longer seen as a way of dividing social classes of people. If you have cows, you try to get the best out of them."
Today, wherever Andrew is, Callixte is nearby: in the coffee fields, weeding and talking, walking to buy cows, relaxing with their families—whose children are now the best of friends—or at church, where Andrew preaches, Callixte reads scripture, and their children dance with unabashed joy. The two men go to prisons, visiting genocide perpetrators who are still incarcerated and talking with them about reconciliation.
None of this would have been possible without sponsorship and without World Vision injecting unity and reconciliation into every project it undertook in Rwanda. World Vision set the stage for reunification between the two families—and appropriately, the light of forgiveness shined on both families one day in church.