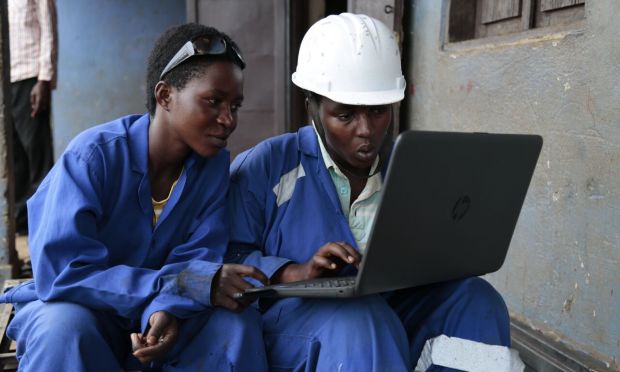 A cooperative specialising in welding services in Rwanda has doubled its income and start selling internationally following training in online marketing from World Vision.
Back in 2015, President of KOTUMU Augustin Sinayitutse and six of his friends decided to form a group to provide welding services to their village: Gatabuvura in Rwanda's Rusizi
District. KOTUMU produced metal windows and doors but, because of their limited market, the business did not flourish.
"These were tough times for our cooperative," Augustin recalls. "Clients were so scarce that we spent weeks without any work to do."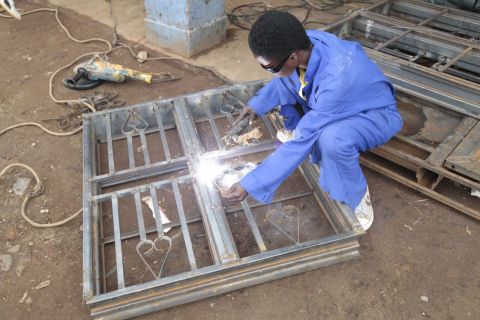 The cooperative is specialised in welding and produces metallic doors, windows and other metallic objects for sale
The following year, World Vision, through the Creating Off-Farm Rwandan Enterprises (CORE) Project, selected KOTUMU and other cooperatives operating in Rusizi District to be trained on how to use Information and Communication Technology (ICT) to market their products and services on the Internet. Their enthusiasm for ICT and its integration into the way they ran their business won KOTUMU a laptop and internet modem during the ICT4D competition organised by World Vision in August of that year.
"ICT was totally new for us but we wanted to embrace this change as we were told it could benefit our business," Augustin said. "After the training, we created a Facebook account and started posting pictures of our welding products and services."
E-learning new skills
For Charlotte who has been a KOTUMU member for one year, the ICT training and the equipment received bought about significant changes in the way she worked. Charlotte was able to access the Internet at her workplace to get information that helped her improve her welding skills and production quality.
She also noticed that being connected to the Internet meant the cooperative was connected to much bigger markets; not only in Rusizi district, but even beyond Rwanda.
"We receive so many requests online," says Charlotte showing the KOTUMU Facebook page. "Once we post our products, we receive calls and messages from people in Kigali, the capital city, and even in DRC (Democratice Republic of Congo) requesting metallic windows or doors. We have also started receiving orders to construct house roofs."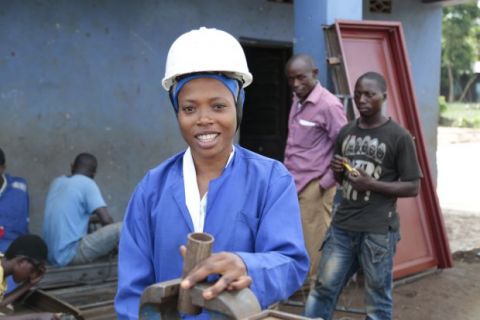 Charlotte used the Internet at work to improve her welding skills and, ultimately, to raise her income
A growing concern
Thanks to this increase in orders, KOTUMU's monthly income has doubled to approximately US$600. As a result, the cooperative has hired more members to respond to increasing product and service requests. Today KOTUMU has 18 members and 11 students learning welding techniques.
"My monthly salary has doubled from US$25 to US$50 since we started using ICT in our work," Charlotte explained. "I can pay for the family's medical insurance and school fees for my two
siblings. I can even save some money to buy livestock. Our cooperative has created jobs for more people in our community and trained others in welding."
KOTUMU leaders are now planning to equip each member with a smartphone to improve communication between them. They also plan to market their products and services on online platforms operating in Rwanda and in the region.
The CORE Project was first implemented in September 2015 in both Nyamasheke and Rusizi Districts in the western province of Rwanda. One of its objectives is to improve the usage and access of youth and women to information technology in support of off-farm businesses. Apart from welding, other businesses supported are carpentry, tailoring, shoe-making, and hairdressing among others.
"Since the start of the project, approximately 3,000 youth and women have been trained on using online market services to market information for their off-farm businesses," explained Ezra Mbonye, CORE project Manager. "Our project uses capacity-building as an approach that enables people to think, learn, take their own decision and act."
For sustainability, the CORE Project is creating a strong linkage between the private sector, government and community-based leadership to reinforce a conducive environment for off-farm businesses.