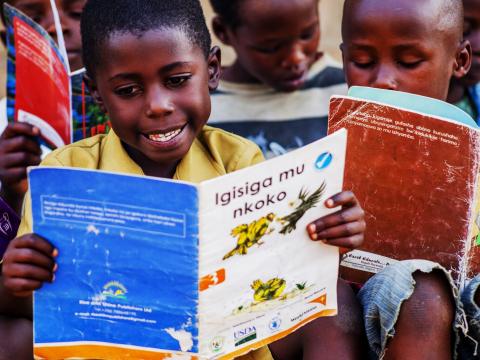 Unlocking literacy to create promising futures for children
Friday, March 8, 2019
'Unlock Literacy' is an innovative, evidence-based approach that aims to improve teaching methods for classroom reading and to engage students, families and communities in reading activities outside of school. It closely matches our philosophy of improving children's education in partnership with government systems, schools, families and communities. In contrast to typical education projects that focus exclusively on the teacher/school side of the equation, this approach brings a holistic approach that works with teachers, parents and community members to create a supportive literacy environment that can sustain reading improvements for children – both in and out of school.
At home, Unlock Literacy provides child-friendly reading materials and encourages caregivers to undertake literacy-supporting activities. In the community, Reading Camps are developed where trained leaders help children improve their reading through a curriculum containing games related to vocabulary, letter knowledge, phonemic awareness and comprehension.
This past year, we established a total of 523 more Reading Camps in Rwanda with just over 39,000 more children, to promote literacy and a reading culture in the communities where we work. We believe that literacy unlocks human potential and is the cornerstone of development. It leads to better health, better employment opportunities, and safer and more stable societies.
Through workshops meant to raise awareness among parents and caregivers, World Vision Rwanda has integrated other development approaches such as Savings for Transformation (S4T) for reading camp facilitators; Empowered World View (to help community members discover their God-given gifts and move from dependence mentality); early learning (because those children who attend reading camp sometimes come with their young ones); Celebrating Families (for conflict resolution and management which affect children's education), and adult literacy (where parents from especially rural backgrounds also attend reading clubs to improve their literacy. Parents are eventually able to create reading materials for their children through locally-available materials).
With these interventions and other deliberate efforts to deliver quality education for the children of Rwanda, our work has helped increase the national primary school completion rate from 95% last school year to 96% (Districts Education report 2018).
Our continued commitment is to strengthen education systems and communities so that children are reading with comprehension by the end of Grade 3 – so that these children become lifelong learners and mature into adults capable of fostering an intergenerational transfer of the value of reading and education.
Unlocked literacy is unlocked potential.