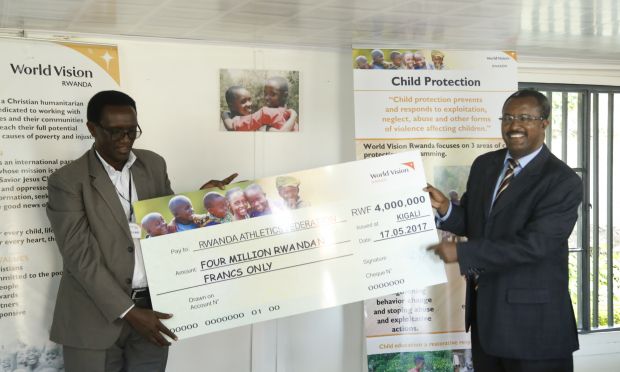 World Vision Rwanda (WV Rwanda), on Wednesday May 17 2017, supported this year's Kigali International Peace Marathon (KIPM) with a cheque of four million Rwandan Francs (4,000,000 RWF) at a ceremony held at WV Rwanda's Head Office in Kacyiru.
WV Rwanda has been supporting the annual event, which is organised by the Government of Rwanda through the Ministry of Sports and Culture (MINISPOC) and the Rwanda Athletics Federation (RAF) as part of commemorating the 1994 Genocide against the Tutsi.  WV Rwanda has particularly been a consistent participant in the Peace Torch Relay since this partnership started. This Relay usually starts from Nyanza Genocide Memorial and ends at the Amahoro (Peace) National Stadium.
On behalf of WV Rwanda's National Director George Gitau, Abebe Nigatu, the organisation's People and Culture Director expressed that it was a joy for WV Rwanda to be one of the sponsors of the KIPM once again.
"This contribution is partly to honour victims of the Genocide against the Tutsi, and partly to support the promotion of peace as we continue to try, as a country and as human beings, to prevent recurrence of inhuman acts of a similar nature to those witnessed during the genocide in Rwanda", said Nigatu during the handover ceremony.     
He added that WV Rwanda's sponsored children from different communities have also previously participated in the marathon (especially the Kids Athletics games) as a way of instilling the importance of peace in their early development.
Thomas Kajuga, the Vice-President of the Rwanda Athletics federation (RAF), WV Rwanda expressed his thanks to WV Rwanda, stating that the humanitarian organisation has been a very good partner of the KIPM for many years.
"When we start organizing this marathon, we undoubtedly believe that WV Rwanda will be with us even before asking them because they have always shown good will to promote peace through this annual marathon. The amount that the RAF received from WV Rwanda will facilitate the former's ongoing activities for this year's KIPM. We thank you once again for your support", said Kajuga.
WV Rwanda's support towards the KIPM was initiated as a reflection of the former's commitment to peace-building as a host of the East Africa Regional Office's (EARO) Peace-Building Learning Centre in 2012. While the Peace-Building Learning Centre has closed, peace-building initiatives are still ongoing in the National Office (NO), because WV Rwanda recognizes that peace is the foundation for sustainable community development which its initiatives seek to promote through its different Area Programs (APs).
Besides providing financial support, WV Rwanda's staff members have been participating in the KIPM to demonstrate both a corporate and personal commitment to peace – as well as to seize the opportunity to promote a healthier way of living through exercising. This year's KIPM will take place on Sunday, 21 May 2017.
By Emmanuel Ntakirutimana