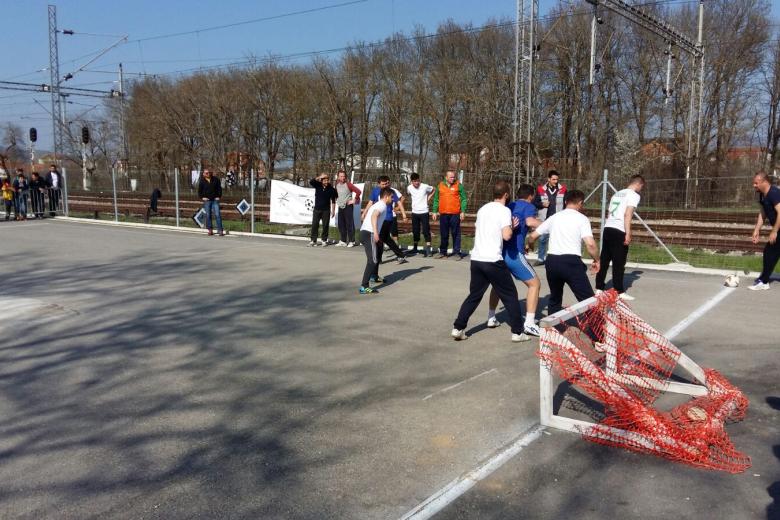 Football brings joy to the refugees in Serbia
Thursday, March 31, 2016
With recent border closures and changes in migration policies across Europe, there are currently more 2,000 refugees and asylum seekers from Syria, Iraq and Afghanistan stuck in limbo in Serbia. New laws and travel requirements won't allow them to go forward and no one wants to return to the violent contexts from which they have fled.
In an effort to bring a bit of joy to those who are stuck, World Vision organised a football tournament on Serbia's southern border with Macedonia. The tournament was organised in cooperation with the Commissariat for Refugees of the Republic of Serbia and NGOs Youth for Refugees, Mercy Corps, the International Rescue Committee and World Vision.
As expected, the youth showed great interest in participating but a significant number of humanitarian organisations working in the One Stop Centre in town of Preševo (a place where refugees stay and live in southern Serbia) as well as the employees of the Commissariat for Refugees of the Republic of Serbia also took part.
Players were organized into 12 four-man teams, each with representatives from more than one country. "Our wish was that this tournament not be one where each country had its own team. On the contrary, we wanted to promote respect, tolerance and fair play; that's why we opted for mixed teams," said Nabih Rihani, World Vision staff and one of the organisers of the tournament as a part of the special program. "The most important thing is that we have allowed children to play again, to be happy and to be children again," he added.
Currently, there are close to 700 refugees in the One Stop Center in Preševo, more than 200 of them took part in this event, either as a player or as a spectator. This tournament was an opportunity for children to forget about the wars and suffering and to play and compete with their peers. Many new friends were made during the tournament.
"This is the most wonderful day in the last five years for me," said Dia Edvan, a refugee from Iraq who watched the matches from the makeshift stands.  "This is a celebration of life for all of us." Dia is a musician and plays traditional oriental oud instrument. He opened the final game with a song and everybody cheered and clapped from the stands.
As the flow of newly-arrived refugees has all but stopped, World Vision has refocused its efforts on providing for the ongoing needs of those who are "stuck" by meeting their physical needs through food kits as well as their emotional needs through activities such as these.
This program is funded by European Community Humanitarian Office (ECHO).