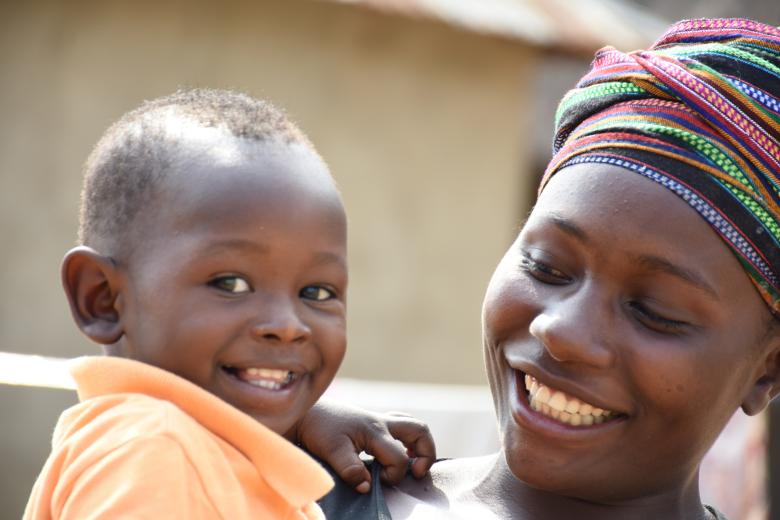 Mamaneiva Project: ''a blessing to us''
Monday, May 8, 2017
Katta Gboya, 22, is an indigene of Torma section in Bum Chiefdom, Bonthe District in Southern   Sierra Leone. She believes the Grandmother Inclusive Approach (locally called Mamanieva Project) implemented by World Vision and its partners is a blessing to pregnant and lactating mothers in her community in Sierra Leone.
The Mamanieva Project utilizes a grandmother-inclusive approach to promote positive change in maternal and infant nutrition in Bum ADP, Bonthe District Sierra Leone. The grandmother inclusive approach also strengthens grandmothers' knowledge and self-efficacy to promote positive maternal and child health practices in communities.
''The Mamaneiva project is a blessing to us in this community. We depended on our traditional practices which we have now realized were, to a large extent, harmful to us and our babies. All across this community, lactating mothers used to breastfeed their babies only for a short while like two to three months' period and start giving plenty of water and porridge. Things are changing now. We breastfeed until 6 months before we give porridge,'' says Katta.
In April October 2013 World Vision and its partners (Sierra Leone's Ministry of Health, World Vision Germany, World Vision Nutrition Centre of Expertise, Evidence and Learning Unit and the Grandmother Project, and Emory University) started implementing the Grandmother Inclusive Approach with Solon, Victoria, Torma and Dodo communities in the Bonthe District in Southern Sierra Leone. To date, Mamaneiva has reached and impacted 15 communities. Series of training using Grandmother Inclusive Approach modules enhanced the skills of grandmothers.
Overall, there are 218 grandmothers in the Mamanieva project, all of whom are collectively reaching out to 325 mothers,and 341 children who are less than two years.
Katta's mother, 60 year-old Esther Moiwo, is very active in the grandmother project. She is the grandmother leader of her community in Torma section in Bum Chiefdom. She shares her experience since joining the mamaneiva project in her community. ''I have learnt a lot from the Mamaneiva project. A lot of things were hidden to us. Native herbs were administered at random without prescription. We now know what to tell our children when they become pregnant and after they have given birth,'' says Esther,  (pictured  training other grandmothers below):
''We tell our daughters what to do and eat during pregnancy. We also train our inexperienced daughters on what leads to baby weight loss, advise them to visit the clinic regularly, take their medications prescribed by the medical doctor,'' she adds.
Katta's one-year-old baby, Joseph, is growing very healthy. Katta attributes the growth and good health of her baby to the training and advice by grandmothers in Torma section. ''My son is growing very well and I am so happy about that. I  have been heeding every advice I get from the grandmothers and that is the reason my baby is growing so well,'' she joyfully explains.
---ENDS---