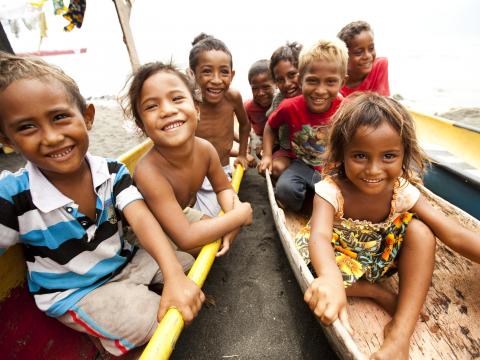 Our Work
What We Do
 Enjoy Good Health
World Vision Solomon Islands(WVSI) works to promote children's health throughout all of our projects. We work to improve the overall well-being of children by increasing community knowledge on health issues, nutrition, pregnancy and health practices.We enhance existing health providers through our Maternal Child Health and Nutrition (MCHN) Projects.
We also focus on providing valuable clean and safe water and encourage improved hygiene practices through our water, hygiene and santiation (WASH) projects, whilst our education and economic projects aim to improve nutrition and lifestyles for children and their communities.
Educated for Life
We aim to improve the functional literacy and foundational life skills of children and adults as well as build community capacity for conflict resolution and active citizenship. The Solomon Islands has one of the lowest literacy rates in the Pacific  and adult literacy in many of our target communities can be as low as 15 percent. WVSI currently focuses on improving both adult literacy and Early Childhood Education as they are the two educational areas most in need of assistance in the Solomon Islands. Our projects not only improve personal quality of life but also the economic, social and cultural well-being of communities.  
Cared for, Protected and Participating
World Vision Solomon Islands works closely with our communities and partners to create an environment where children have a good quality of life and plenty of opportunities. Our economic development projects aim to increase household economic resilience through improved food security, sustainable livelihoods and access to loans and credit. Improvements in these areas result in a greater likelihood of children receiving a nutritious diet and having access to an education.
WVSI works to protect children from natural disasters by building organizational and community capacity to prepare for, mitigate against and respond to disasters.
Our Early Childhood Education projects show children who have access to early education or pre-school are better equipped to participate and excel in primary and secondary education.
How We Work
World Vision's work in the Solomon Islands is geared towards empowering communities to shape and drive their own development. Community participation is central to World Vision's pursuit of transformational development. We strive to ensure our projects are community based, sustainable, focused on the needs of children and align with our core values. Our approach rests on formalized World Vision principles for community engagement, which are built into all program designs. 
World Vision Solomon Islands currently focuses on seven specific 'Area Programmes'. Programs are being implemented in the capital Honiara and in five of the nine provinces: East Malaita, South Malaita, Guadalcanal, Central, Temotu and Makira-Ulawa. We make a long-term commitment to each Area Program, typically for a 15 year duration conducted in five year cycles. 
The Area Programs are provinces or part of a province consisting of between 15-25 selected communities. While working in this area, WVSI operates across many sectors in accordance with the needs of the communities. These sectors include health, education, water and sanitation and disaster risk reduction and recovery. Projects focusing on these sectors are often run concurrently to maximize the impact of these projects. 
WVSI works hard to generate meaningful partnerships with communities, the Government and other organizations or groups that can contribute valuably to the development of these communities and to the enhancement of the Solomon Islands. 
More information can be found on our specific projects by accessing the relevant fact sheets in the Publications section of our website.