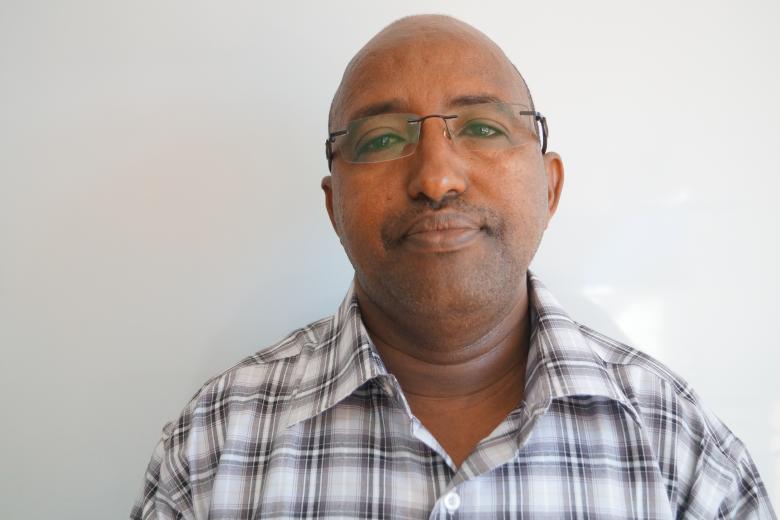 I believe Somalia is a country full of potential
Wednesday, September 30, 2015
To see the communities we serve being able to stand on their own feet and be able to help themselves is my greatest joy. I have worked with WV Somalia for the last 7 years since 2008 as Food Security and Livelihood Project Manager. Over these years, I have worked in Bay and Bakool, Somaliland, and currently in Puntland.
One of my proudest projects was the Agriculture project in Wajid, where World Vision supported shallow well construction for vegetable production, and training on production aspect. To date it still remains a testimony of our work in that community. Despite the difficult life of the people who are under such extreme conditions, these households are still able to harvest a lot of crops (including sim sim, sorghum, maize and vegetables) and sell the surplus for cash, which they use to meet basic needs of the home such as medical and school fees. A number of community members have constructed houses and berkats from the saved money they would have used to buy food
There has also been a great improvement on the post-harvest handling of crops; the harvest is stored in pits in the ground making it possible to fetch good prices during scarce time. Further more, vocational skills project enabled WVSom to empower many youth through training on tailoring, mechanic, electrical and beauty salon skills. Over 300 youth are now self-employed and are able to take care of their basic needs and support their families as they have created their own businesses with these skills.
The Food for Peace, Community Drought Mitigation, and the current EU Livelihood projects have also led to peaceful co-existence between various communities we work with by involving different clans to work together for a common goal on Food for work activities. Incorporating peace initiatives in our activities is of great importance in Somalia. We are dealing with different clans who fought in the past, and still harbour revenge, but including peace and reconciliation processes in our programme continues to go a long way in healing historic wounds. We have been keen in selection of committee members from different clans and social status to enhance this peace and security.
Our projects bring out a sense of community leadership and ownership. Participation has enabled us to give communities a voice through engaging them in the development process. We have opened up to dialogue and allowed the community to call people to action, identify their problems and solutions. It is seen as one key to the success and sustainability of development efforts because people become involved and responsible for their own development. These communities have moved from merely contributing ideas to actual engagement in community.
Additionally, the empowerment of women in our various interventions is being strengthened. Most of the Somalia households are headed by women, whose husbands either died in the war or abandoned their families when the situation posed difficult for the man to fend for his family leaving the children with their mother. Somali women are increasingly embracing entrepreneurship and they are pioneering different business across different towns and villages.
I believe Somalia is a country full of potential. Imagine the two large rivers, Juba and Shallebe flowing through the heart of Somalia. These rivers are the life-line of Somalia. They can grow any types of crops in other East African countries, if only peace can be sustained. I am honored to be part of this journey of rebuilding this country.
Blog by:  Ali Tumalo, Food Security and Livelihood Project Manager, WV Somalia