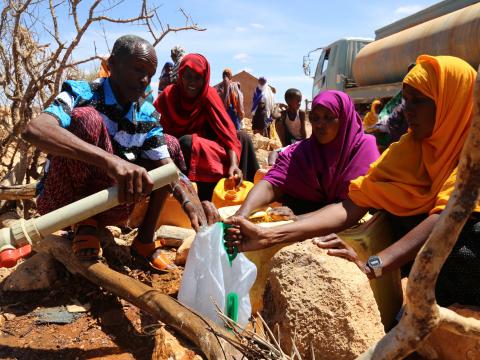 Water Sanitation and Hygiene (WASH)
What we want to do
Provide access to clean and safe drinking water 

Encourage good hygiene practices for basic human survival

Promote healthy living and dignity

We want to see all children enjoy access to clean water and improved sanitation facilities close to their homes so that they can stay safe
How is World Vision addressing current issues?
We're rehabilitating and constructing classrooms, latrines, provision of food in schools, providing incentives to teachers and enhancing teaching skills through teacher training. Also, we construct water points near households and schools to reduce the risk of abuse (such as rape of children travelling long distances to collect water).
Is what World Vision doing working?
Yes, more Somali children have access to clean water in their schools and communities. In the long run, we're expecting to impact the performance of children in the class, and implement a number of WASH interventions covering general community, education initiatives and health facilities using an integrated lens.