We are the future: Save Us, Protect Us
Friday, June 8, 2012
By Olwetu Mafutha and Sikelelwa Geya
It's a windy Friday morning in Johannesburg.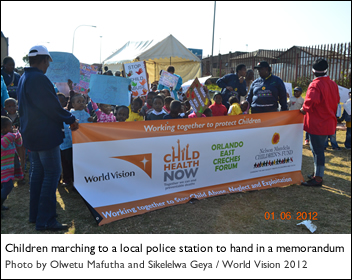 A group of children, all under the age of six, are protesting in the streets of Soweto.
Former president Nelson Mandela's house is down the road. His former wife, Winnie Madikezela- Mandela, still lives in the area.
"Go away child abuse, go away, who are you child abuse, who are you," chant the young voices.
The 200 children are accompanied by their teachers, World Vision South Africa staff and community members.
The group is upset with the level of violence in South Africa. Daily media reports about cases of child violence. Young children are murdered for muti – traditional medicine practices, others are raped, and some are victims of physical abuse and neglect in their homes.
Encouraged by community members joining in the chant, the young voices grow more confident.
"We are the future, stay away child abuse, stay away. Stay away, child abuse, stay," they say.
World Vision South Africa, in partnership with the Nelson Mandela Children's Fund, the Orlando East Creche's Forum and other local organisations, held a two-day event to commemorate South Africa's Child Protection Week.
World Vision South Africa's Child Protection co-ordinator Tholakele Zulu explains that World Vision works in Soweto, and across to the country, and has intervened in a number of child abuse related cases. She says there have been many instances where law enforcement has not been effective enough.  The march, she says, is a call to action for the police and government to act against perpetrators of violence.
At a local police station, the demonstrators met with station commissioner. Five-year-old Silindile Mazibuko handed over a memorandum to the local police station commissioner.
'We want to be safe to play. We don't want people to hurt us. We are the future of this country, we are the children, hear our voices. We want the police to help us," Silindile said to the station commissioner.
"Please, love us, protect us, care for us, we are the children, we are the future, we want to play in safe communities without fear of being abused," the memorandum further stated.
In his response, Orlando police station commander Brigadier Welcome Zangwa said as a father and grandfather he has to take action.
"I have no choice but to react as the future of this country has spoken. This message will not only be spread to police stations under my jurisdiction, I will make it my mission to spread it nationwide," he says.
World Vision South Africa advocacy advisor Anthony Ambrose further pleaded with the police to play their role as safe keepers of the children in the community.
"We must know that when a case is reported, the police will be there to do their job. We need to start putting children first in our communities. As long as young children continue being abused, as World Vision we will never stop raising the issue," Anthony says.