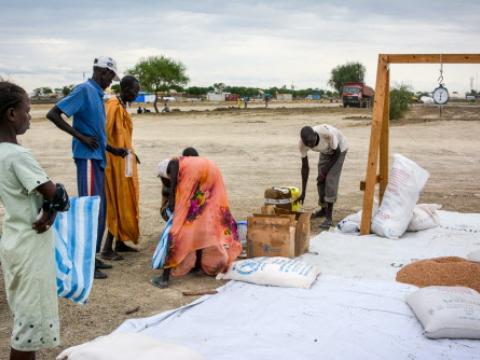 Displaced children miss home, friends and school
Tuesday, May 27, 2014
Rania, 14, doesn't like to sleep or play.  When she sleeps she wakes up crying. Her dreams are plagued by memories of her flight from home amid gunfire and the terror of neighbours being shot as they fled. Her best friends were among those who died as they ran for their lives. 

I met Rania at the UN base in Upper Nile State, South Sudan, where World Vision was distributing food to Internally Displaced Persons (IDPs).  The base is only just outside Rania's hometown of Malakal. But the 20,000 or so people who fled the town to the UN base refuse to go back. They are terrified that the armed group that was once in control of the town will come back. They prefer to live in the squalid and cramped conditions on the UN base where they are protected by UN forces.  There are tanks on the perimeters of the base. 
Rania dreams about the bad things she has seen. When she plays, the memories come back. 
"When we were running I saw many dead bodies… soldiers and locals. People were being shot," she says.  "I saw bad things and they are what I think about.  When I play, these things come to mind." 
To escape the opposition forces, Rania and her grandmother and other family members first fled across the River Nile. Escapees converged on the riverbank trying to get onto boats to flee. Two of her cousins drowned as did hundreds of others. 
Over the next month grandma Nyapac, who is in her sixties and who has acted as Rania's mother since Rania's own mother abandoned her years ago, tried to keep the family going. But the conditions were terrible.
"Rania was so hungry. She was so sick. We were living in open spaces. There were so many difficulties," said Nyapac Laa. Eventually they made their way back across the Nile to the UN camp, where their basic needs are now being met. 
There is little to occupy children. Until last December Rania was in school. But Malakal is now a ghost town of burned and trashed buildings, homes and schools. Scores of locals were massacred as they took refuge in the Catholic Church or the town's maternity hospital. In the camp there is no formal schooling nor place to play due to the overcrowding.
Missing friends, home and school
I ask Rania if she finds anything to laugh about nowadays. She shakes her head quietly. Does she miss school?  "The thing I miss is that I lost two of my friends and I will not see them again," she says. 
Today Rania was one among 3,600 people and over 700 under five year olds to receive a two week family ration of sorghum, pulses, salt, oil and special corn soya blend high energy biscuits for younger children, provided by the World Food Programme and distributed by World Vision. The food is the barest minimum needed to keep a family going. 
"The food here is enough but we are worried about our situation and how it will end," says Rania. 
There is no sense of peace and with the rains coming the camp is going to become an even harder place to live in. 
Rania wants to go home. Her message to the country's leaders is simple: "The only thing I would like is to stop the fighting, rebuild the town and to live in peace." 
These seem such simple aspirations but as I left Rania to walk home with her ration I was thinking how hard it will be deliver on those hopes if there is no peace in South Sudan.  Where is the justice in a world that can so badly let down so many children? Pray for peace in South Sudan.
Read more about the South Sudan crisis in this World Vision report.
James East is the Emergency Communications Director for World Vision International, and provides strategic direction to the extensive network of communications professionals working around the globe for World Vision's crisis responses. He recently spent time in South Sudan.